Founded in Copenhagen in 2008, the label "Han Kjøbenhavn" combines its roots in the danish design culture in futuristic, almost grotesque-looking shapes with a subtle penchant for underground dramaturgy. Originally, the brand started with eyewear designs, a gap in the market which was more than obvious to the two founders at the time, Tim Hancock and Jannik Wikkelsø Davidsen. Later on, the brand was expanded into the clothing direction and been considered the antithesis of the Scandinavian stereotype, although exactly this DNA can be found in the avant-garde streetwear designs of the brand sufficiently.
Nevertheless, the heavy-looking costumes of "Han Kjobenhavn" seem like the striking contrast to the rather airy light image that we see before our inner eyes. But Han Kjobenhavn has depth. It wants to embody and make visible relevant and the reality.

With Numéro Berlin, Founder and Creative Director Jannik Wikkelsø Davidsen talks about his vision, the darkness and the faces behind.

First of all: How did you get into design and what do you want to achieve with and in the industry in general?
I started working with graphics and visuals at the age of 17, then went on a more conceptual journey where it was more about learning how to use your brain in a new way, thinking laterally, pushing the ideas, and translating emotions into shape. After that, I had more time to work with art and installations which was a combination of my education and background. It's been going for a good 20 years now. So it's been an organic process getting to where I am now, and my work is a combination of it all.
"Han Kjøbenhavn" would not be immediately associated with Copenhagen. To what extent is the city itself an inspiration and are there certain impressions that are reflected in your designs?
I was born and raised in Copenhagen, so of course, it reflects the work I am doing. With that said, I do not work with Denmark or Danish design in general as a visional expression. In my mind, Danish design is presented in a very minimalistic way, lacking truth and emotion. It is not my intention to build on that perspective, for me it is about telling personal stories, working in an honest direction, exhibiting the reflection of what I see, and then translating that into what you see….and feel. 
Your PFW FW19 debut collection "Fairytale Denmark" already focuses on a dark side. In general, darkness plays a leading role in your designs also now again in your FW22 collection "Sculpting Darkness". What is inspiring about it and what does it embody for you?
The darkness is very inspiring for me, it's where I experience the most emotions and where I feel the most creative. It's about learning to really be in it and connect with it. I am used to doing that – I understand it and the effect it has on me and I'm comfortable there. It fills me with a very specific energy that visually connects and translates my thoughts to a certain shape or expression, it's the only way I can work or know how to. That said, the darkness does not only have to be executed, it needs light to breathe and make sense. It's a balance. 
Leather and fake fur also play a leading role in your collections. What do these materials represent for you and what makes them so interesting?
These materials represent emotions for me. The way it feels, smells, and the overall texture. For me, the first thing I do during the design phase is to connect the ideas I accumulate to the materials I want to use. So, when working with emotions it comes very naturally for me to use these kinds of materials – they are the starting point (in terms of materials) and fundamental for the whole collection.
In addition to the classic lookbook images, a small film noir had been also created, all in collaboration with photographer and director Casper Sejersen. Why did you choose him, what particularly attracts you to his work?
Casper Sejersen is very talented. I don't think he needs my stamp of approval, it's obvious that he has delivered on an insanely high level for a very long time. Additionally, he is very dedicated to the honesty of the craft, and he is one of the few that can convey my thoughts and feelings, transfer them into his field and add to them. He understands what I'm doing and brilliantly compliments it.
Many silhouettes seem somehow supernatural and slightly futuristic, while the design still incorporates a solid streetwear base. How is this merger important?
When designing, it's important for me to create my own world and my own direction. It's a liquid process, and I create from what is in my head, what I'm going through emotionally, and what I see around me – that said, I always try to direct it to its place, where it feels less crowded and possibly it's own little space. 
I have a strong need of doing that because the world we are living in is providing us with an overload of information, that is difficult for people and creatives to navigate, so many designers and creatives tend to walk a similar path because they subliminally get fed the same information. That creates work that often collides and it all becomes very one-dimensional, also in terms of how we express fashion and culture, so it's important to create your individual pocket, providing something different.
In which time would you say Han Kjøbenhavn moves? In the present, past, or already somewhere in the future? Or maybe somewhere in between?
I don't know haha. It's probably somewhere in between. I just try to create my little world, open it up and invite people in. It doesn't have to be the future or the past but rather its own universe. I do not design for a specific person or a specific type, for me, it is about being inclusive and designing something that everyone can connect with. 
In your work, the person or the cast generally plays a major role, especially because your focus is also very much on the story behind it. In previous collections, "older" models or homeless people have already stood in front of the camera for you. How do you choose here? What determines your cast and why do you feel it is so important to break down as well social classes or Klischees in the presentation? To make fashion more inclusive?
I cast the people I think are the best match for the specific piece of the specific collection. As mentioned earlier I work a lot with storytelling and emotions when designing a collection, therefore I need the right person to tell that specific story when showing the pieces in a collection. That's why I don't have a pre-set age, specific type, or gender – the creation almost chooses its preferred character, there has to be a natural connection between them, they almost have to merge.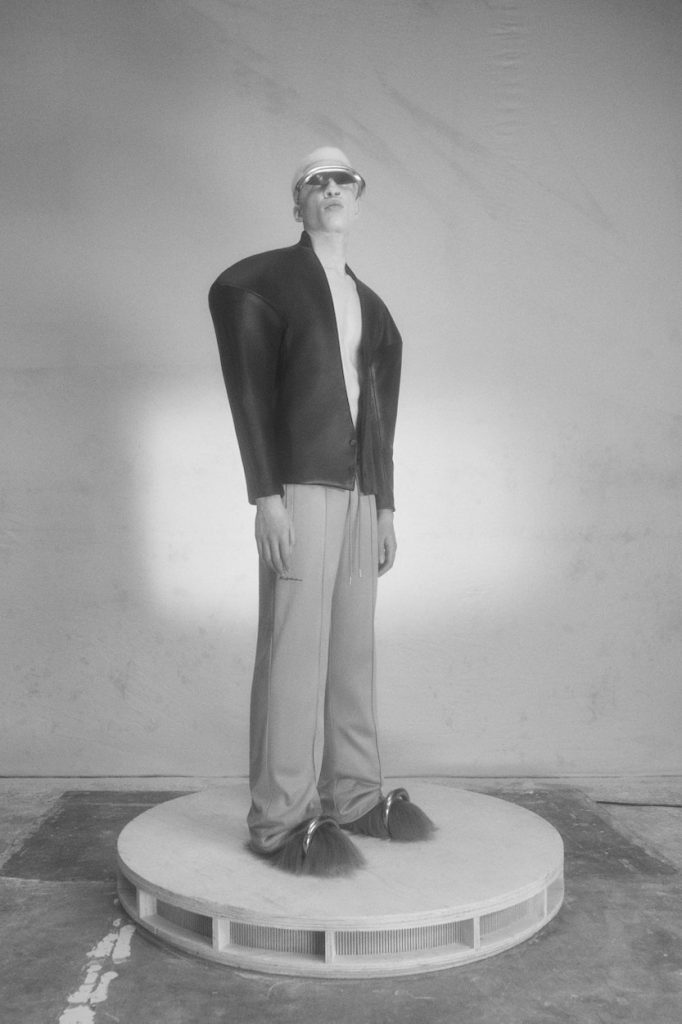 In some contexts, your designs are called representatives of "anti-fashion". Is there such a thing at all or does the term only describe that you don't follow the generally valid rules and trends? Do you want to be seen that way?
I don't know. For me it's about creating beautiful objects, build from emotion. I design what I feel and hopefully, the world feels it  as well. I don't like to label it more than that.
Where do you see the future of the brand and what do you have to do nowadays to keep a brand alive and growing organically?
I feel like it is only the beginning. I took over as Artistic Director 3 years ago. Before that, it was the responsibility of people who had a lot of disagreements and different ideas. Then Daniel Hummel came in as (CEO). We had long conversations about what we wanted to do with Han Kjøbenhavn and to keep me working freely in the direction I saw. Daniel coming in has made a huge difference because we share the same vision, and he allows me to be 100% free to create what I see now.
I feel like we have only just scratched the surface of what we are capable of in here. We have an amazing team, the structure is in place, the talent is here – so now we have to make Han Kjøbenhavn all it can be – and it can and will be significant. 
Interview Carolin Desiree Becker
Creative Director: @wikkelso___
Video Director: @caspersejersenstudio 
DOP: @_andrehansen
Model: @charles_edouar.d
Stylist: @noahks_ark
Styling assistant: @proxy__server
Hair: @kalle_eklund
Make-up: @trineskjoeth
Editor: @karlbroholm
Music: @berstuk
Producer: @kaspernotlev
Production designer: @sofiastaal__