An artist who sweeps over us like a single force of nature and pulls us along with her: Tanerélle

Like no other, she unites the powers of soul and pop, which flow down and into us like a warm, gentle shower. A feeling of lightness, almost like a rush or the soothing feeling of cotton clouding your mind and thoughts.
Through her lyrics the artist lets us share her thoughts on topics such as duality, self-worth and self-love – a constant homage to the women of the world and of course to herself. You can literally feel how she appreciates and encourages herself as a person and a woman, how she empowers herself and how she lets herself be driven by her own power. One thing we should probably all take a leaf out of our book. She celebrates the versatility of women and emotions, the finding of strength in weakness, while she herself seems like a powerful union of the elements, a warm energy, an unstoppable interplay.
"Music to me is expression, time, history.
Music is the collective account of our species.
Music is everything."
As an artist and human being: Who or what do you think has influenced you the most up to this point?
It's always hard to name because coming up I was influenced by so many and so much. Cinema has played a huge part in my sonic and visual expression. The plots, the acting, the cinematography, the color grading…it's all led me to romanticizing the stories within my life by creating art and music that could seemingly be the soundtrack to a film. Also artists like Sade, Nina Simone, Florence and the Machine, Purity Ring, Clint Mansell, Beyoncé , Stevie Wonder. The list is in forever rotation and goes on and on.
"Mama Saturn" is not only one of your most engaging songs, but also your own label you self-release. Can you explain your personal meaning behind "Mama Saturn"?
The genesis of Mama Saturn was a moment of me trying to find a beautiful way to explain moving my hips. When I wrote the song I had no idea that my supporters would start calling me that, but it felt good and made sense so it stuck. Now it's one of the names I want to build my empire around.
In your music it always seems like you have a certain connection to cosmic spaces and the elements, another place out there. Where does that come from? What do you associate with it?
I love how infinite space is. There's so much that we'll never know about it in this lifetime. That amount of depth inspires me and gives me endless inspiration.
Do you believe in horoscopes? What is yours and in which characteristics do you recognize yourself?
I do! I just don't know much about them. I'm an Aries. I'm a leader, I'm headstrong and I'm very very passionate.
Guiding themes as well include self-worth and self-love: what does it mean to you to truly stand up for yourself and how did you get to the point of uncompromising self-acceptance?
Standing up for myself means not shrinking myself or apologizing for taking up space. It means not shying away from speaking my mind out of fear of being condemned or manipulated. I work on creating a safe space within myself for myself everyday but I believe being fed up with being a victim got me here.
We are constantly confronted with the most diverse ideals of beauty, a kind of attraction and perfection that seems almost unattainable. What does true "sexiness" mean to you?
Embracing all of who you are. It's the hardest concept because we're not taught that, especially coming up in a world mostly centered around the white male gaze. Embracing all of who we are and naming the things WE love and melt into is what counts.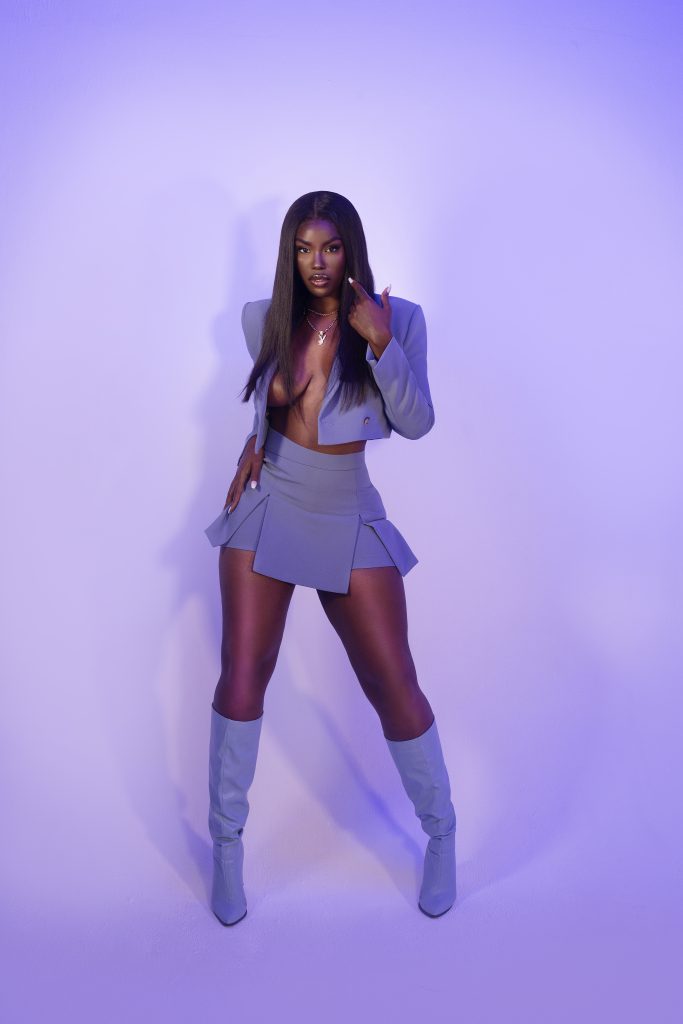 What was your biggest struggle with yourself up to this point?
At this point, conquering my mind is my biggest challenge. It can be so loud, so wrong, however awareness is key and with that I feel like I'm getting better and better at quieting my mind and being present.
Does your music influence you in dealing with certain problems or situations? Do you become more aware of some things when you work them up and process them in your own art, your own words and get into this energy?
Absolutely. There are times I don't even know what it is I'm trying to convey until it comes out in a song and I'm like, yes that's it!! I genuinely feel when I write, that it's God pouring through me, like I'm just the vessel, and with that it makes so much sense that some of my biggest questions are answered through creating.
Why do you think art is so often about desire and love? Do you believe in the "one true love"?
Because inherently all we are is love. I believe what complicates that simple sentiment is the ego and that complexity makes love seem like something that has to be sought out, pined after, won even though it's already ours, which drives us insane. Fortunately and unfortunately some of the best art comes from that feeling of wanting something you can't or shouldn't have. I feel like we all have so many true loves, including ourselves.

What do you do about heartbreak?
I feel it, let it absorb me for a bit, work to the roots of the sadness and angst, work towards healing it and learning from it by expressing it, putting it in my art and then I celebrate it.
The focus of your music seems to be the female power. This is also a lot about empowering yourself in your own sexuality, your own femininity, your own body and awakening your own strength. What does it mean for you being a woman?
Being a woman, being a black woman means expected strength, understanding and constant forgiveness from me, for everyone but myself. The world teaches me that everyone else comes first and now I take on the task of unlearning all of that. That's what's in the music, me reclaiming myself and painting what that looks like.
What makes you feel good or empowered?
Meditating…God. Standing up for myself and in turn others, asking for what I want, therapy, self love, playing, creating and being around the people I love that love me back. Those are all things that make me feel good and empowered.
On the 15th of April your EP "82 Moons" been released, how would you best summarize the feeling of these six included songs?
'82 Moons' is an immortalized moment of my submission to unconditional love.
Who is Tanerélle now? And what is her future?
Tanerélle is a cosmic goddess of love and light. She is a daughter, a sister, a friend, a lover, a story teller and her future is full of more play, art and lots of love.
Listen to "82 Moons":

Interview Carolin Desiree Becker
Picture credit: Kombucci