Numéro Berlin's weekly collection of the most exciting news about fashion, music, and simply everything that is on our radar. And here is why it should be on yours as well!
ICEBERG SS23 COLLECTION
New heroes and icons play the main role of the ICEBERG SPRING SUMMER 2023 men's collection exploring the otherworldliness, that seeks to challenge preconceived style norms.
The collection departs from the vision of "travelling without moving" and doing away with preconceived gender codes through Italian-made sportswear, tailored for the casual use rather than to a daily trip to the gym. Bold paradise prints based on Japanese cartoons feature prominently throughout this collection with bright jungle and paint ball, tie dye patterns fortifying the lineup with an unexpected splash of fun. Interacting with the womens collection through a pair of denim looks draws an interesting parallel: a boxy jean jacket paired with baggy trousers is crafted into unexpected, geometric silhouettes, while upbeat patchwork, showing off the excellence of Italian denim. Kitsch details and cartoon characters embellish the pieces and give a dose of youthful positivity throughout.
COURRÈRES SS23 — NEW MENSWEAR COLLECTION
The new Spring-Summer collection by Courregès celebrates deconstruction. Each moment is decomposed, and each piece can be worn and removed, even to the point of nudity. A collection feeling like summer. Faux leather strap links and connects the entire collection. On a large windproof parka, on a suede jacket, in faded denim, on a coat with heritage details like horizontal piped pockets, declined in leather or suit. The silhouette emerging bears the beginnings of a new language where sneaker mules rub with sharp unisex leather jackets. Between the reinvented past and the near future, the collection exists outside of time.
DRIES VAN NOTEN SPRING SUMMER 2023 MEN´ S COLLECTION
Unusual elegance, infused with a sense of loucheness and sensuality. Vulnerable and intimate, Dries Van Noten menswear Spring/Summer 2023 starts with the touching point between the refined, precious vs hard, robust outer layers that protect us from the world. Softness and solidity. The collection presents multiple archetypes of man; after-dark dandy, cowboy, garage scene grifter, and a sleepy daydreamer. Dries Van Noten Spring/Summer 2023 touches on the Zazou subculture of Paris during World War II; the youth in their considered finery dancing to forget their troubles to catchy swing jazz at the Pam Pam Cafe. Mixing masculine and feminine codes with joyous revelry is the leitmotif of the collection. Light, flowing patchwork shirt capes and uniformed suiting build the core. The sense of intimacy is conveyed through flesh tones and a new emphasis on lingerie for men.
GEORGES WENDELL SS23
For the Spring Summer 23 collection, the Creative Director of GEORGES WENDELL, Pierre Kaczmarek continues to take his inspiration from the world of the Parisian city inspired by legendary Left Bank restaurant Lapérouse, known for its intimate alcoves and libertine history. The collection focuses on the existential for the French capital men's wardrobe with a twist. Keeping traditional tailoring adding structural pieces with Supima cotton, and casual Friday denim. For Madame Wendell, the womenswear part, Kaczmarek's is going for a sexy look with an empowering silhouette including laces, short hemlines, and swimwear.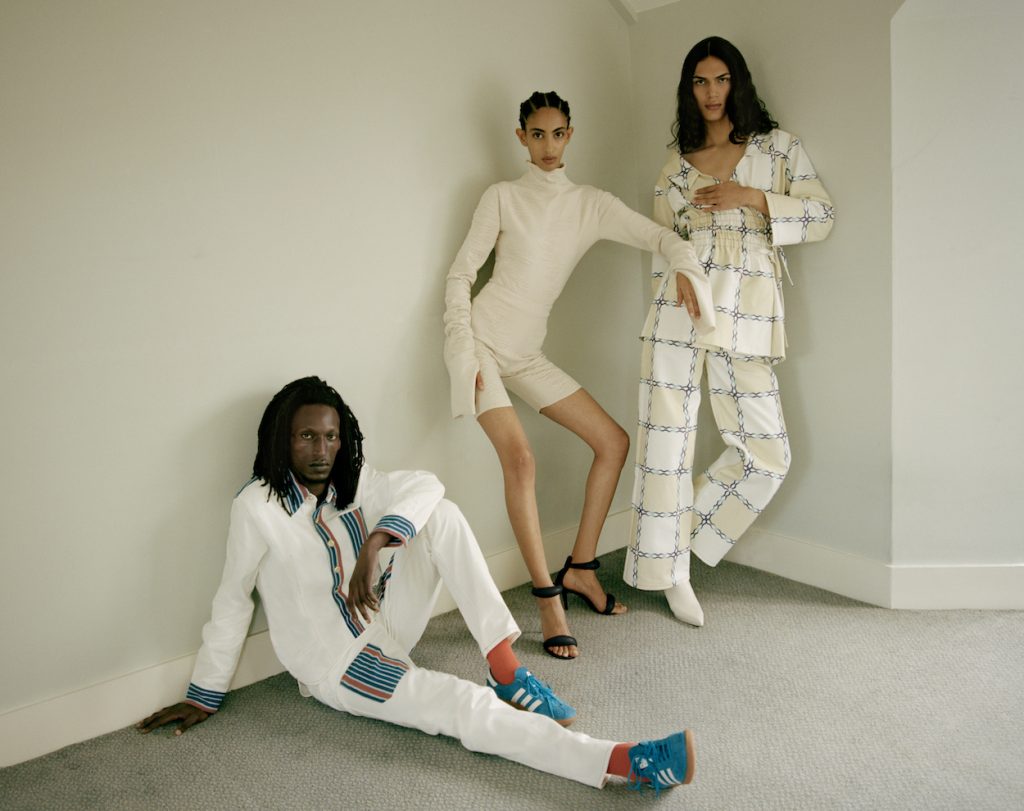 BROWNS FOCUS: SERIES TWO
The future-focused fashion platform Brows is announcing an exclusive capsule collection with seven design talents: Ahluwalia, Bethany Williams, FEBEN, Namacheko, Nicholas Daley, SELASI, and Wales Bonner, curated through creative and community activations and brought together with the next generation of talent in mind.
This season's program has been brought to life in partnership with HOME by Ronan Mckenzie and built to celebrate and support of R.O.T.A (Representation On The Agenda), Browns' internal network is celebrating the breadth of communities within the company, and the wider industry.
Building on Priya Ahluwalia's debut at Browns with her SS22 collection, her capsule is inspired by life in London and her Indian-Nigerian heritage, while Bethany Williams' designs reference ever public artwork, 'All Our Stories', a sustainable flag installation which launched last year at The Coal Drops Yard in London's Kings Cross.
Namacheko's precise design philosophy paired with Abbas' distinct creative outlook Nicholas Daley's designs reflect the designer's Jamaican-Scottish heritage are the core of his work. This menswear capsule expands on tie dye and patchwork consisting of upcycled fabric, rebuilt and repurposed.
KELVYN COLT IS HOSTING A PANEL TALK FOR BIPOC ARTISTS WITH DR.MARTENS
The rapper Kelvyn Colt continues the mission of supporting BIPOC artists in the new Tough As You initiative with the support of Dr. Martens performing as a mentor of the organization ROOTS Berlin.
 The workshop and panel talk was hosted by Aminata Belli and Shani Atani and focused on supporting BIPOC musicians. Established artists like Joy Denalane, Eunique, and Sylabil Spill have shared their experiences and offered professional coaching in the fields of distribution and marketing to young, aspiring artists. 
For over 60 years, Dr.Martens is synonymous with subculture and wish to revolutionize and change the surroundings we live in. The initiative Tough As You delivers new opportunities for young, underrepresented talents in order to ameliorate their access to financial and creative support. 

Picture courtesy of mentioned brands/ PR