Debuting at Rakuten Fashion Week in Tokyo, the Ukrainain designer succeeds not only with one of her strongest collection ever shown but also with a message that the world needs now more than ever. A homage to the power of freedom, diversity and love.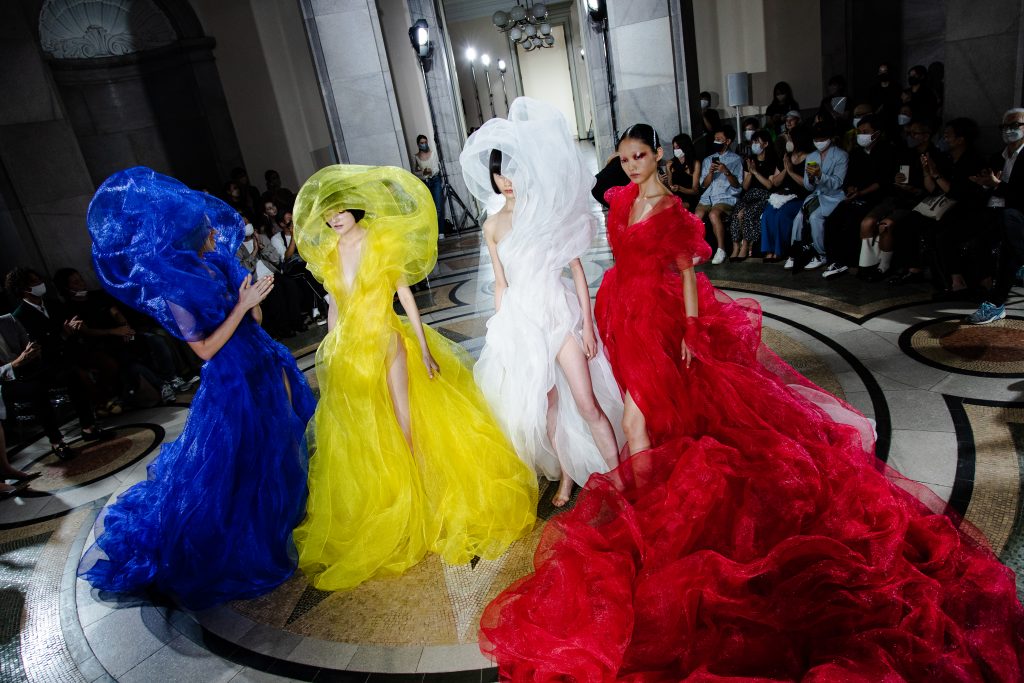 Pure magic starts, when the Ukrainain singer Tina Karol opens the show with one of her new interpreted traditional Ukrainain songs. All covered in gold – of course a customized piece by Lever Couture – she almost looks like she has just fallen from heaven. You may see it as you want but it was probably no coincidence that one of her performances this year brought her to Tokyo, wearing a custom Lever Couture dress in the Ukrainian colours blue and yellow. Seeing this beautiful, bold statement, the team at Rakuten, the Tokyo based online retailing company, got in touch and invited Lever Couture to take part at their fashion week that will end tomorrow.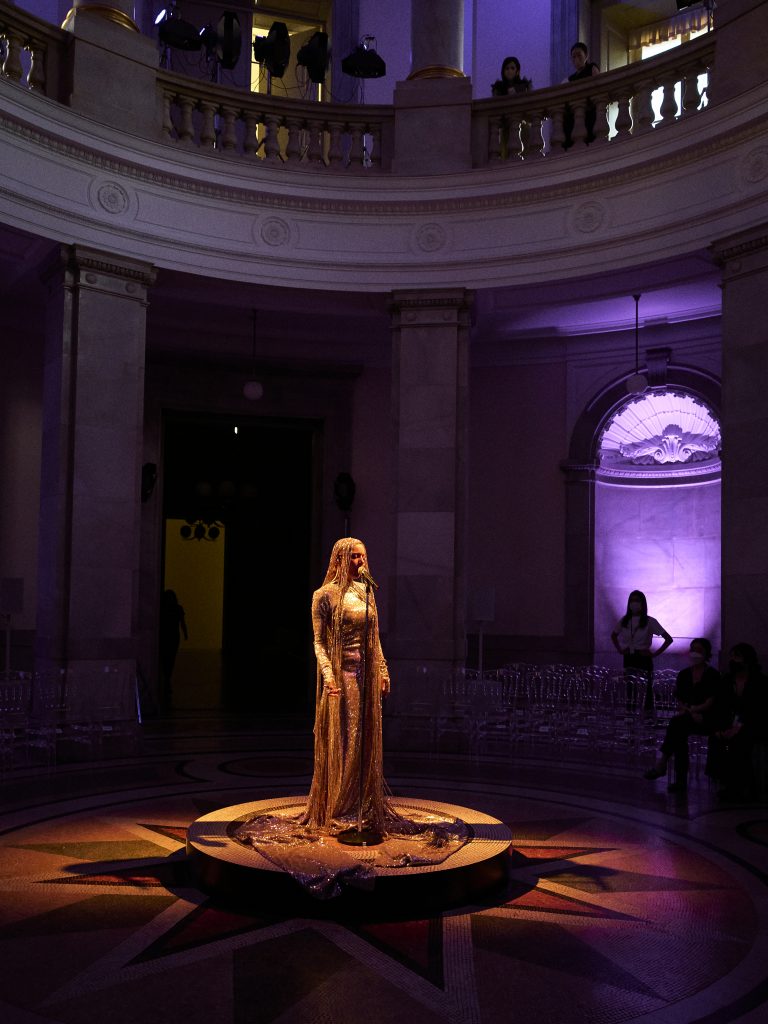 This is going to be something very very special, I was telling myself. Not only because of this amazing oppurtunity for the now in Los Angeles living designer Lessja Verlingieri to debut her new collection in Tokyo during fashion week. Not only, because her incredible talent was making one expect something stunning and beautiful to happen. But especially because both the collection and the show have evolved during a very difficult time, a time of despair, pain and fear – a time of war in Verlingieri's home country Ukraine. It is the country her heart belongs to, being born and raised there, but also a place where she feels extremely creative and alive, absorbing all possible inspiration sources in her grandparent's tiny village. It is the country where she discovered fashion at the age of 10, sewing together fabrics that surrounded her at her grandmother's home, and the country where she learned to design. It is also where she created early sketches for Lady Gaga's outfits and her first collection that she presented in Berlin, back in 2017 where she also connected with her loyal mentor Nicola Forminchetti. For this collection, the italian-japanese fashion and artistic director supported the young designer to translate the love and cultural bond between Japan and Ukraine into her designs. "The connection between these two countries seemed at first glance arbitrary but we discovered a harmony that is reflected in the whole collection. I am beyond happy to be able to express these diverse cultures within my body of work," explains Verlingieri. It is without a doubt that with this show, Lever Couture has made another big step into a promising future, after having already worked with icons such as Lady Gaga, Mila Jovovich, Jennifer Lopez, Gigi Hadid and many more to be named.
"Lever Couture takes us on a journey to a space of soul-searching and finding hope."
To find a bond between past and present, hope and cultural unity is what has inspired Verlingieri throughout her design process for "Leleka" – which translates as 'Stork' into English — a bird cherished by Ukrainians, representing parental love, welfare and happiness. Voluminous drapes wrapping the body like clouds, translucent layering and reflective textures are leitmotifs for her 23 designs. Between colours that range from white, yellow, blue, red, magenta but then also bold, translucent colours, Lever Couture takes us on a journey to a space of soul-searching and finding hope. On this journey, it becomes a mission to find the glorious balance between contrasts that this collection masters so perfectly. More technical garments and graphic shapes meet more fluent, soft lines that transform the models into alien-like creatures, into magnificent goddesses. A sculptural feather design, refering to "Leleka", takes us away from the heaviness of the past happenings and pulls us into a lightness, in such an artistic, sophisticated way that it can only feel unforced, organic and truthful.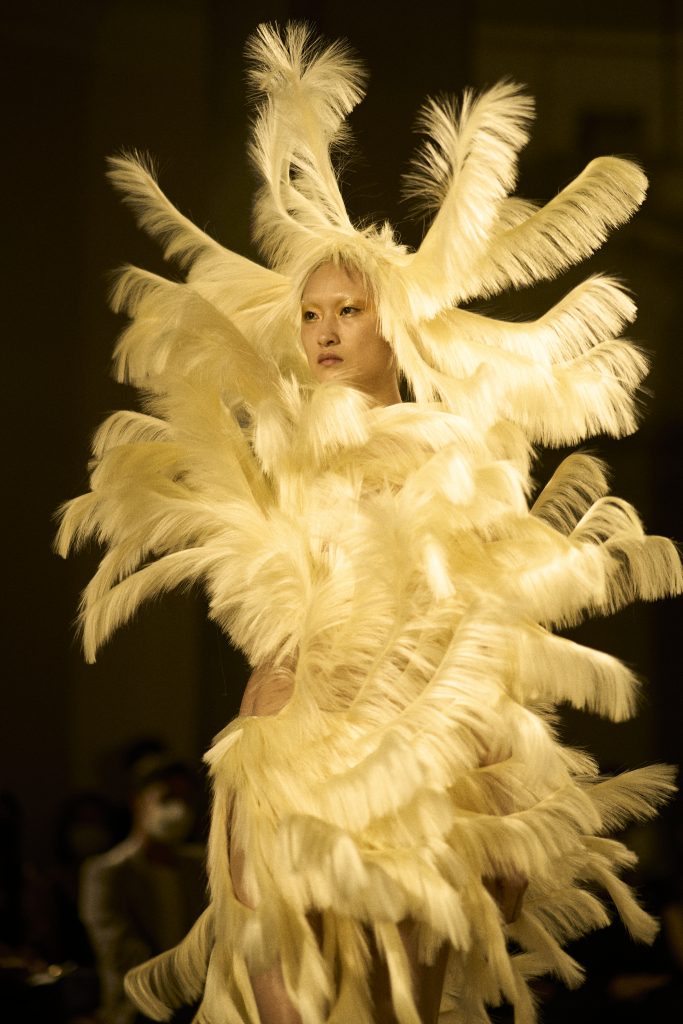 The last two looks are Verlingieri's most meaningful designs: the two blue and yellow dresses make a final bold statement, a reminder to the sky and the fields of wheat that are being symbolized in the Ukrainain flag: "It is heartbreaking and devastating to see what is happening in my home country. I still have family and friends in Ukraine who are facing uncertain times every day. Ukraine is a beautiful and peaceful country with gentle people living there. These people want freedom, they want to live in peace. It breaks my heart to see that so many people have lost their lives, especially children who would have a life full of joy and laughter ahead of them." In times, where overwhelming despair makes it hard to breathe we need talents such as Lessja Verlingieri more than ever, reminding the world of the beauty and (creative) power of Ukraine, also symbolizing all other countries and cities that became victims of terrible actions from people that should not have the power to rule countries. This world is about love and unity, exchange and creation and nothing else is turning into such a crucial commitment for all of us to pursue and live by.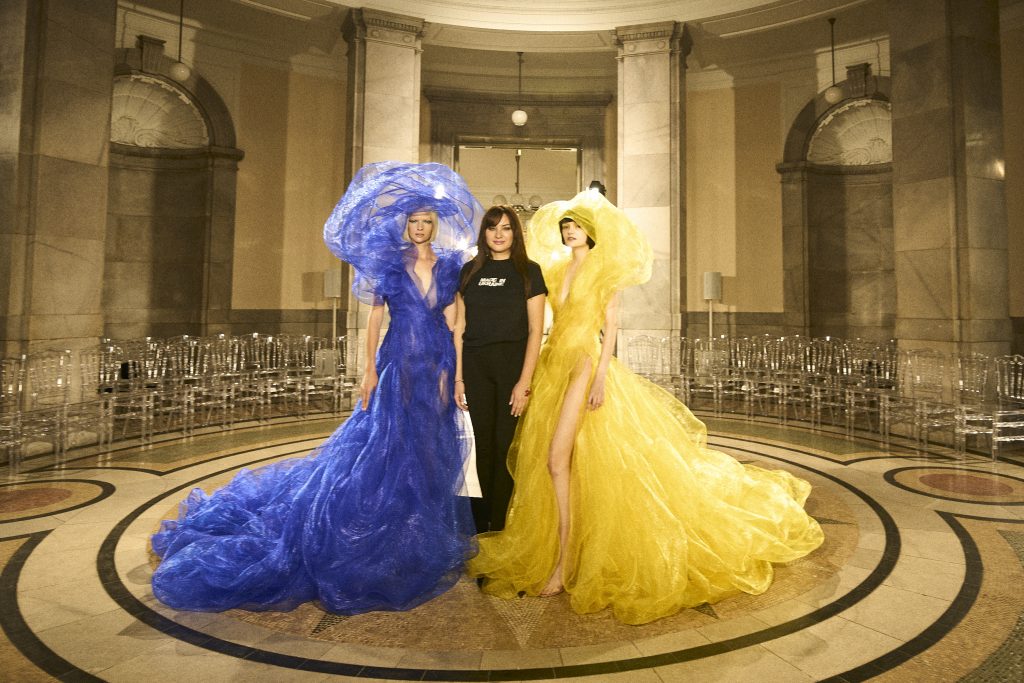 Words Sina Braetz
Picture courtesy of Allan Abani & Keiichiro Nakajima