A giant "sandbox", in the middle of China is the setting for Louis Vuitton's Men SS23 Spin Off show, for which the main inspiration is childhood and fantasy which is reflected in the colorful and scultural designs of the collection, playing with the limits of imagination.
Louis Vuitton Studio Prêt-à-Porter Homme is responsible for the creation of the collection. They are a constantly evolving ecosystem of creative minds that welcomed Virgil Abloh in 2018 and adopted him as their artistic director.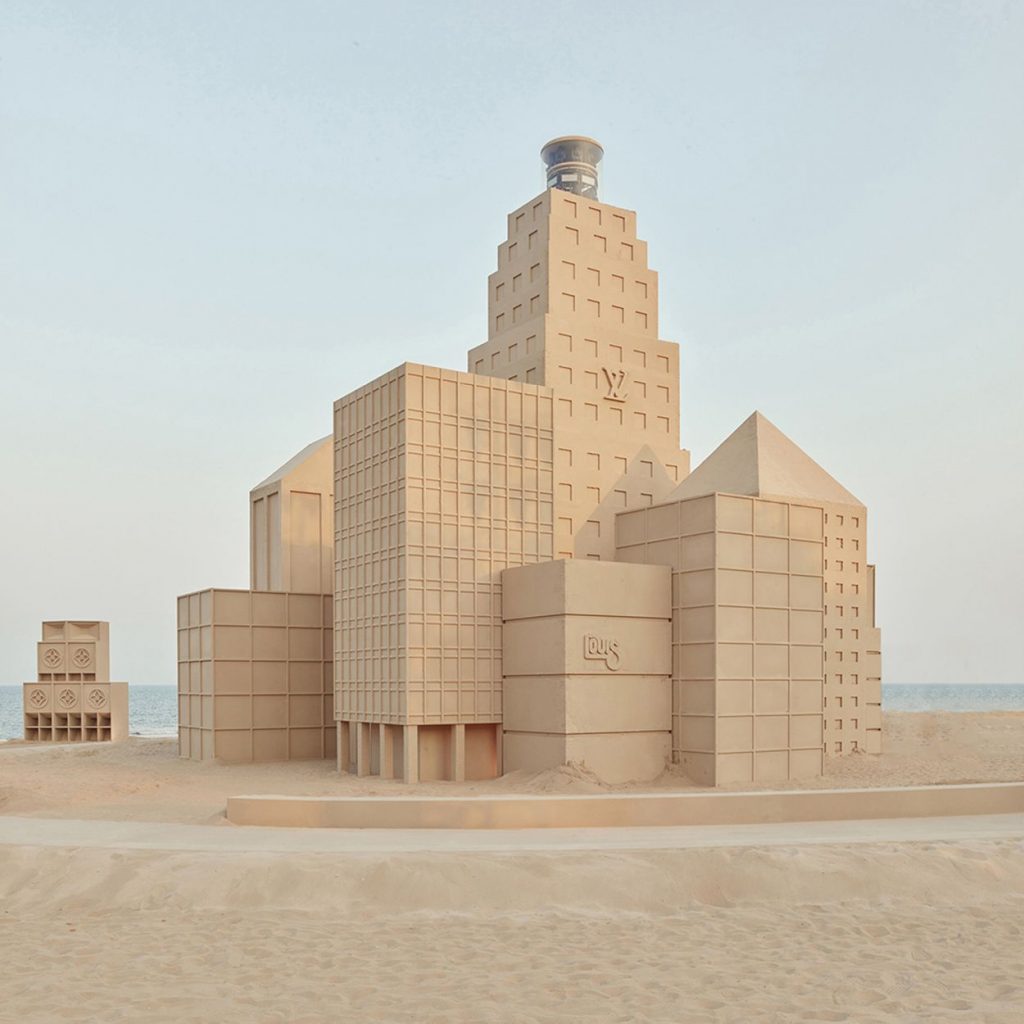 A Giant Sandbox in Aranya
First, to be specific, Louis Vuitton went to Aranya, an exclusive beach community. There, a giant sandbox-inspired set was built to reflect Virgil Abloh's inimitable sense of branding, forming sculptures. This show is entitled "Mirage" and is the final product of Chinese directors Jia Zhangke and Wei Shujun. They portray themes of childhood, discovery and community. The setting is the city of Dunhuang in China, on the edge of the Gobi Desert. Craftsmanship is high on the show's agenda: The show was designed with a collection of tools that showcase the possibilities of craftsmanship. To create an unforgettable experience the show was accompanied by Beijing-based instrumental band Sleeping Dogs and Chinese dancer Hou Ying.
Upcycling Ideology
The aspect of sustainability is not neglected either: material from overhangs is reused and recycled pieces implemented. This creates upcycling looks, which are intended to counteract the overload, overproduction and waste in the textile industry. LV follows a new motto: "pieces that make looks" instead of "looks that have pieces in them".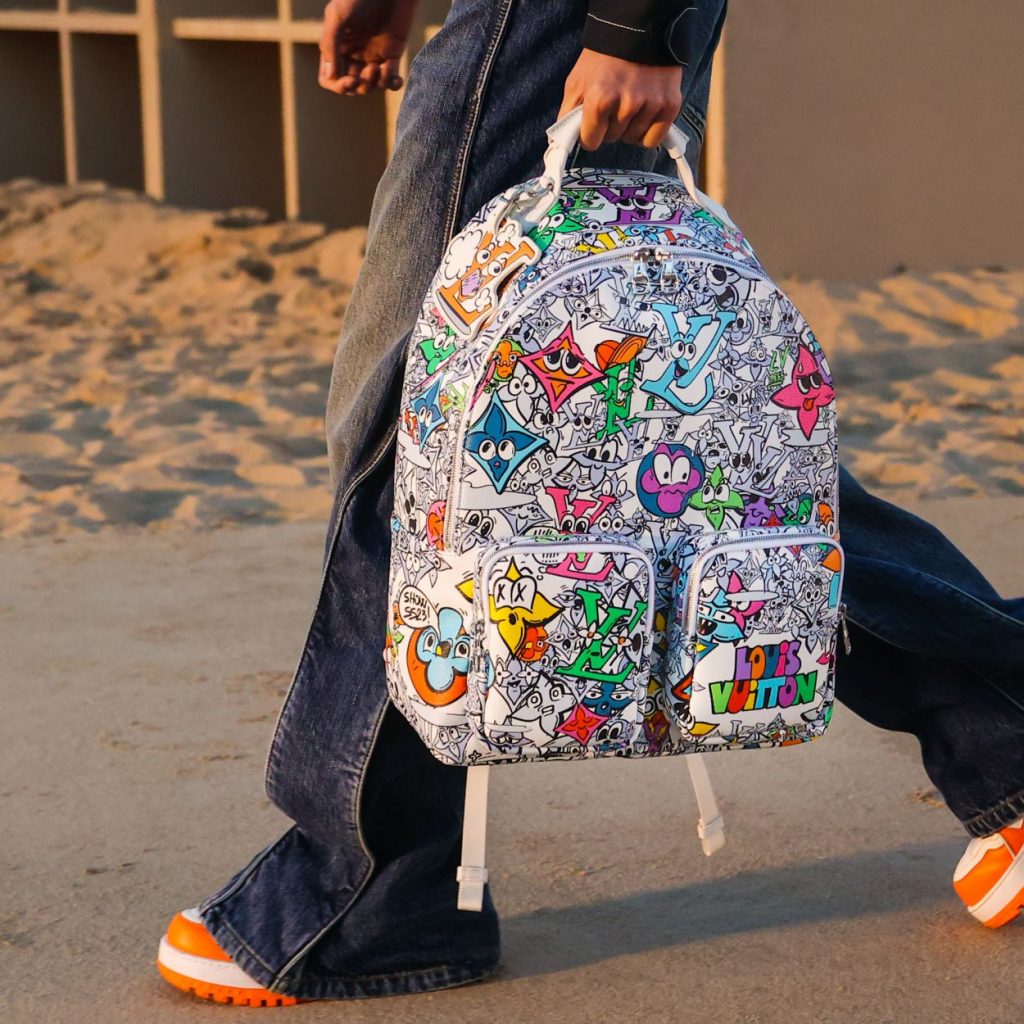 A highlight of the collection are oversized shealing multi-bags in block colors. Leather belts with monograms are decorated with rhinestones and biker jackets appear in graphic looks, alluding to the tropes of the 1980s music video. They also like to play with silhouettes: trousers transformed into floor-length workwear skirts, and a jumpsuit turned into a full-body dress in dyed canvas. In contrast to the colorwise unexciting desert, the collection inspires with cartoon prints – another tribute to childhood.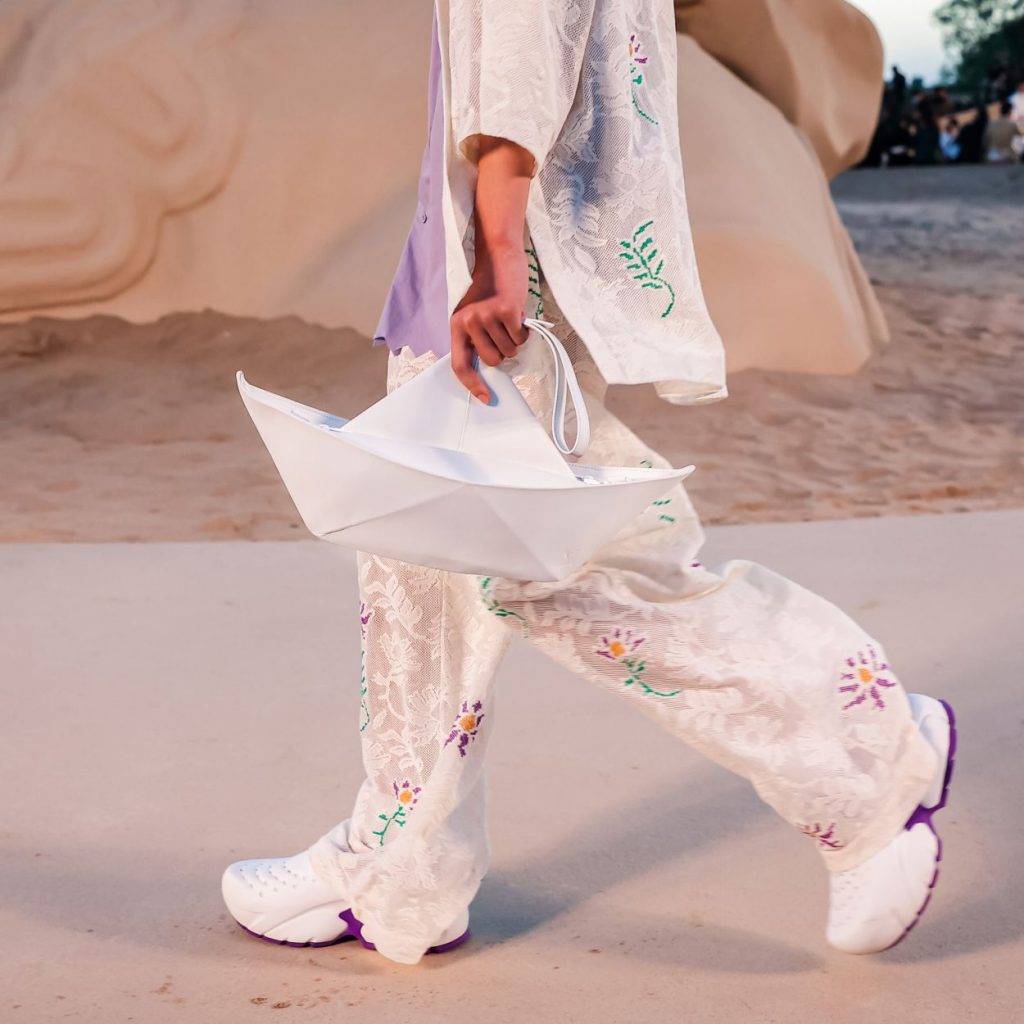 Insect-eyewear, colors and cartoons
They don't disappoint with colors and innovation in general. Denim appears in rainbow monogram jacquard, overprinted with fraying and so on. Paper planes crafted in origami leather are placed on formal suits. Not only the clothes are recognizable and true to the themes: The accessoires do not disappoint either: Beanie hats are made entirely from glass beads, hand-crocheted with monogram flower motives. Eyewear is also inspired by cartoons – the models look like dragon flies and bumble bees.
LV shows that there are no boundaries for your imagination, fantasy and inside-child. Literally from the shoes to the hat, there are more unexpected, fashionable and funny details than you would expect.

Picture courtesy of Louis Vuitton