Juicy, lush mango. Delicate, airy, inimitably pure jasmine. Intoxicating, sensual, creamy incense. Paco Rabanne introduces the new fragrance for women, called FAME.
The new fragrance by Paco Rabanne called FAME, is an absolute star. A bold new vision of femininity. The composition is super innovative and full of precious ingredients. Established in 1966, Parisian fashion house Paco Rabanne has claimed a distinctive identity resulting from the synthesis of cutting-edge contemporary design and radical craft. Paco Rabanne was born in 1934 in Spanish Basque Country. By the early 1960s, after training as an architect, he applied his skills towards avant-garde accessory design, proposing unique creations for several haute couture houses. From looks that signal urban effortlessness to composite creations of culture and ceremony, Julien Dossena, the new director, has reimagined Paco Rabanne's forward spirit with new relevance. To bring FAME to life, Paco Rabanne has brought on board one of the most exciting young actresses of her generation: Elle Fanning. Elle is the ultimate person for the FAME woman, showing numerous facets of her personality in blockbusters like Maleficent – The Dark Fairy (2014) as Princess Aurora, in cinema like Sophia Coppola's The Seduced (2017) and currently in the Golden Globe-nominated – series The Great , in which she embodies one of history's greatest rulers, Empress Catherine II.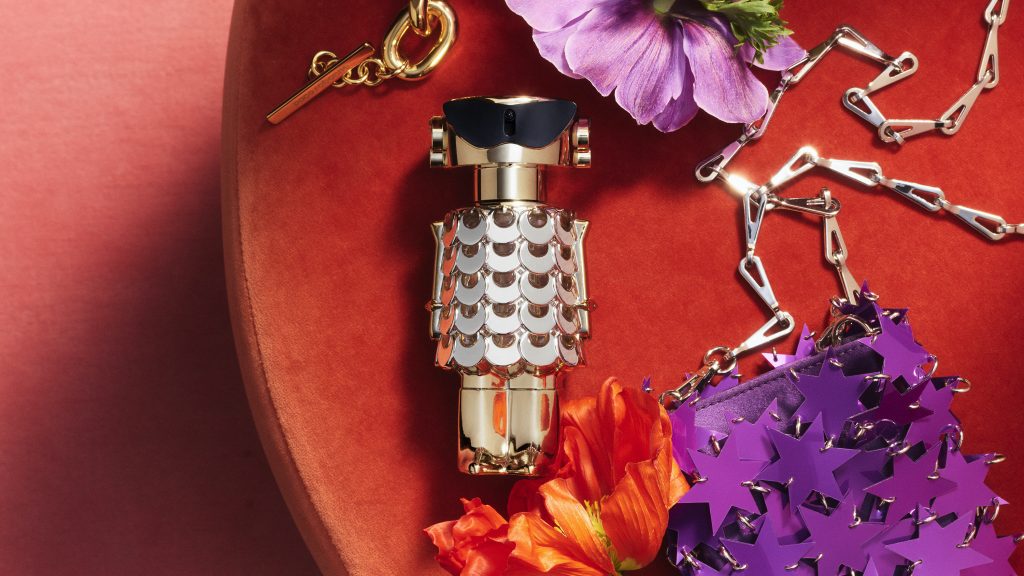 The golden flacon in metal is precious like a piece of jewelry, designed in an avargantistid style, that reminds of Paco Rabanne. Not only the wearer is a women, also the flacon is a she. The flacon itself wears a dress, a connection of silver sequins and tiny piercings, golden boots and sunglasses with cat eyes – the accessory of a real star. With this special design, the fragrance has it's own outstanding glow. The new fragrance is an  irresistible fragrance that radiates pure joie de vivre and sensuality, with a tropical and juicy scent. 90% of the ingredients are natural origin. Made in Grasse, from precious, carefully selected, sustainable ingredients obtained, using the most modern technology. The multitalented team of perfumers consisting of Dora Baghriche, Marie Salamagne, Alberto Morillas and Fabrice Pellegrin has used all its creative skills and incomparable know-how to create a truly groundbreaking fragrance. FAME was created with modern, environmentally friendly ingredients made to measure. According to Paco Rabanne, true luxury is always about innovation. Accordingly, the team put together exciting top ingredients for FAME, some of which have never been used before in a fragrance. Jasmin, Incense mixture, Mango, Sandalwood, vanilla and a natural high-tech molecule called Dreamwood. It's a new renewable, biodegradable molecule, which is 100% natural in origin, is obtained by white biotechnology and goes with sandalwood in an irresistibly sensual, creamy, woody combination. 

Above all, the campaign is giving an elegante and beautiful look. Through glamorous lenses, directed by Solal Micenmacher, Elle Fanning takes on the role of FAME in an enchanting, high-fashion Parisian décor. The story begins in on the on the most richest street, when Elle walks down Avenue Montaigne as she walks past Paco Rabanne's flagship store. FAME catches her eye, coming to life and being carried in Elle's bag. She steals FAME. In the next shot we see Elle in a fancy apartment. FAME swirls around, and the charming Elle embodies the many of the avant-garde muses of Paco Rabanne, a homage to the icons of eternity. A radiant Audrey Hepburn in Two on the Same Path . A sensual Brigitte Bardot in The Contempt . A teasing Jane Fonda in Barbarella and an elegant Françoise Hardy. The campaign reminds one of the uniqueness of the self and brings to mind that you can be every women you'd like to be. FAME is the first creamy Weihrauch fragrance for women in perfume history. A fragrance as multifaceted and electrifying as the Paco Rabanne woman of the past, present and future. FAME is not about celebrity, it's more a feeling of desire and excitement.