Just before the ballet of models showcasing Fletcher's creations begins -after the lights where dimmed and the hubbub of the guests diminishes- an announce instiged us to take part in a minute of silence before the show, in respect to HRH Elizabeth II's passing. Indeed, it is in quite historical circumstances that this edition of London's fashion week is being held after the country entered a period of mourning for the loss of the Queen.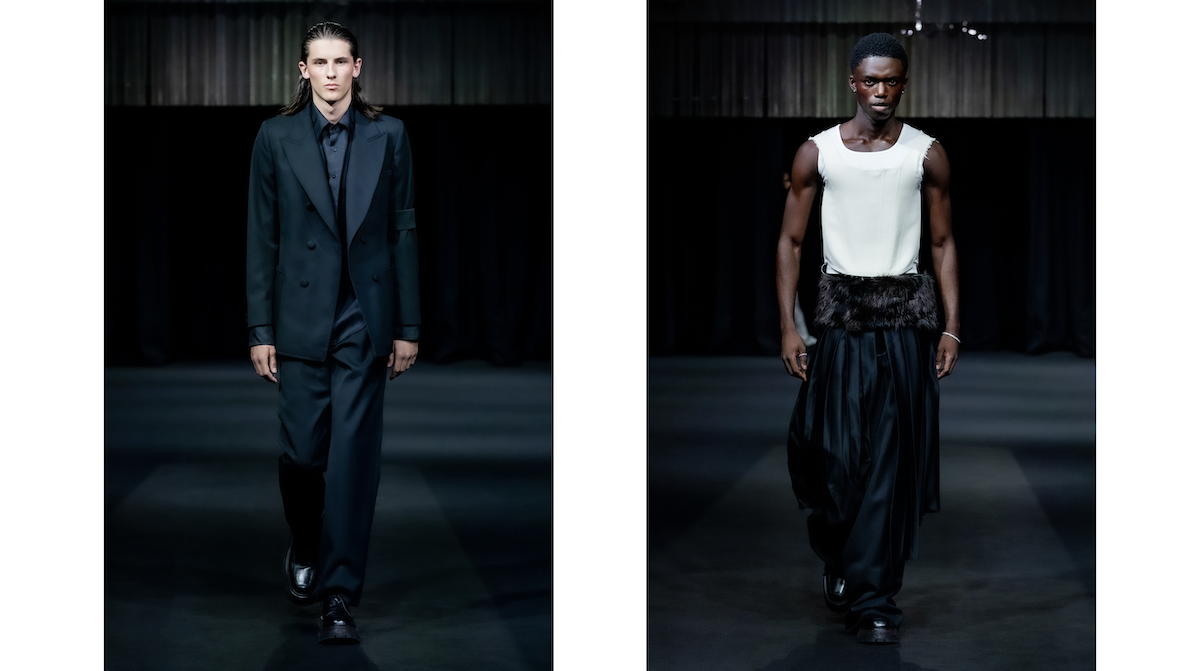 British Fashion Council's CEO, Caroline Rush, informed us earlier this week through a press release of the measures taken in order to maintain fashion week in the most respectful way possible. Only business events remain. Parties, openings and social activities are rescheduled until further notice with on Monday, day of the Queen's funeral, a strict black-out from events and online releases. (It's fine, you'll read me on Tuesday.)
If the start of this LFW might seem grim, by the sound of it, it was only a matter of minutes until Daniel W. Fletcher lighten our hearts (following the opening of the show by a full-black mourning look). Rest assure the collection itself isn't a tribute to England's royalty but, on the flip side, to the unknowns, the anonymous icons from all eras whom made the British style what is is today. From punks and underground creatures to the city centre's business men and Saville Row tailors, London is studied in its archetypes.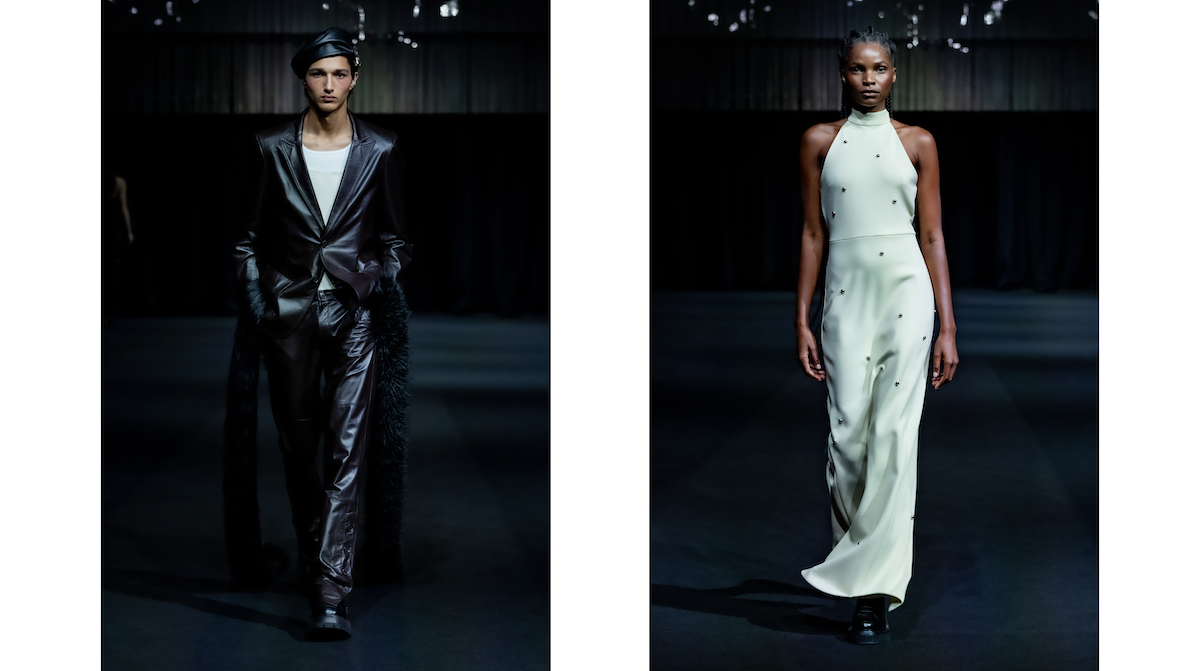 Fashion-wise, the tailoring is GREAT. If Fletcher always circle back towards his iconic schoolboy uniform inspired suit featuring shorts and a little scarf knotted around the neck, he also explores new cuts in this SS23 collections. Actually, quite a lot of elements are bringing a newer light on the work of the designer. First of all, the usual bright-coloured checker patterns – emblematic of Daniel W. Fletcher – are more rare and discreet and surprisingly put in parallel with a series of numerous black and white looks. For the British designer, it's as much as a minimalistic stand as he would do.
The "menswear" – is that really a thing to say anymore? – is extremely desirable. Silhouettes out of leather, faux-fur and tweed-like material are following each other's, creating an eye-appealing play on textures.
Some of the looks are just extremely modern such as the asymmetrical kilts adorned of fur belts. (I mean. Come on!)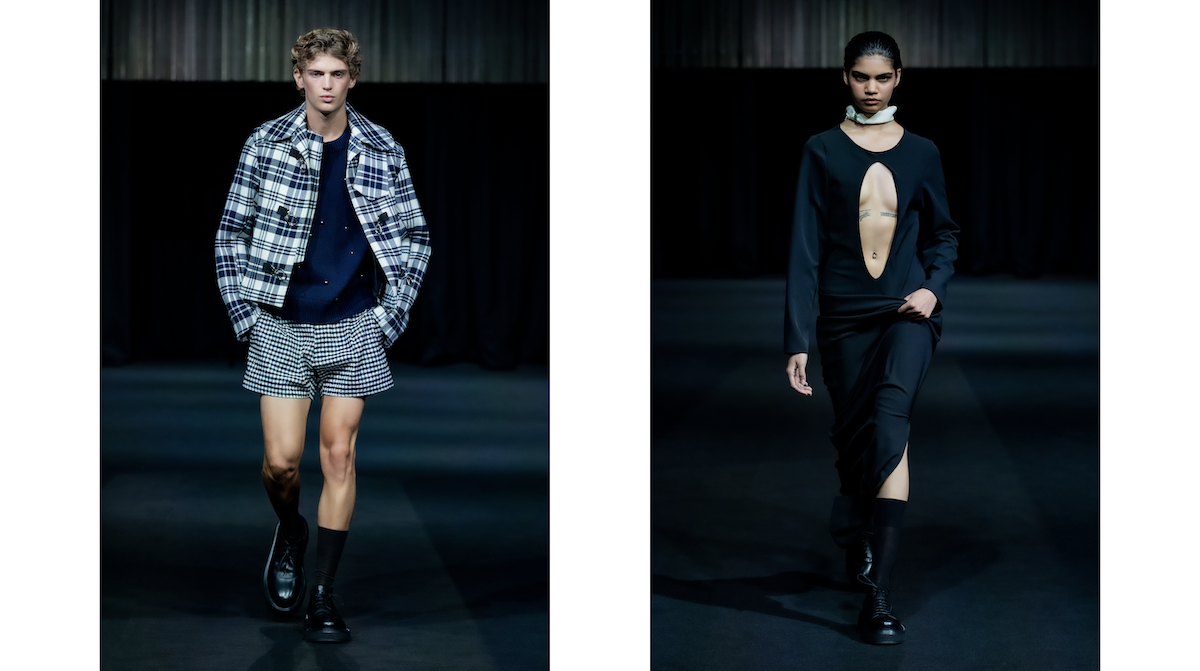 The more feminine looks are also well balanced and combine both a strength and a beautiful softness to them. We loved seeing corsetry being declined for him and her.
Side note, although fashion week just started here, we can already tell model from look 17 (whoever he is) will be a favourite of the season. We almost got knocked over by attendees behind us, jumping to capture pictures of him.
This show is also the most sustainable to date for Daniel W. Fletcher. "Setting out to further explore the parameters of working with entirely deadstock fabrics through Nona Source, a platform which sources waste fabrics from LVMH houses to be repurposed elsewhere. The collection aims to negate any learnt thoughts of what a sustainable collection can be and proves what can be achieved within the constructs of working responsibly, and ultimately creatively, to push to new understandings of finesse." state Welsh writer Naomi Pike in the brand's press release.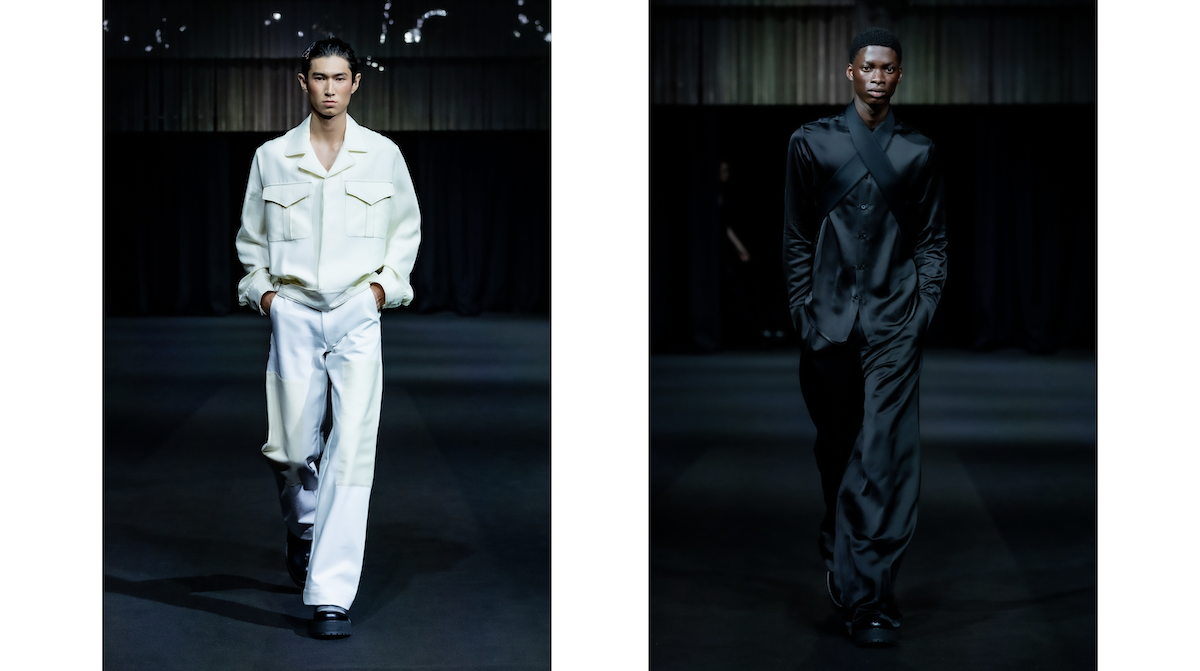 Words by Marien Brandon
Photography by Chris Yates, courtesy of Daniel W. Fletcher via PurplePR