Luis Dobbelgarten is an upcoming designer, who works closely with his friends in his own studio, realizing his ideas. His pieces, mainly consisting of denim and leather are created in his hometown, the Eiffel in Germany. He founded his brand NO/FAITH STUDIOS just a few years ago and over time his original vision is becoming more and more of a reality.
Clothes rails with the latest pieces on the right, cardboard boxes in the front, a sewing machine on the left, various leather jackets as well as unfinished designs, a small kitchen, skateboards on the walls, a few pretzels followed by sketches on the table and even a loft bed: One can literally feel the creativity and love behind the pieces, when entering his studio. Luis is not only a designer but has been skateboarding since his childhood. That's where his love for fashion came from. He started with screen printing shirts and is now focusing on the creation of unique pieces with denim and leather. Taking care of the productions himself, he prefers to stay independent and runs his brand with success while remaining true to himself. And so his brand NO/FAITH STUDIOS became a shaping of his own vision.
We met Luis and talked with him about his passion, his brand and future visions.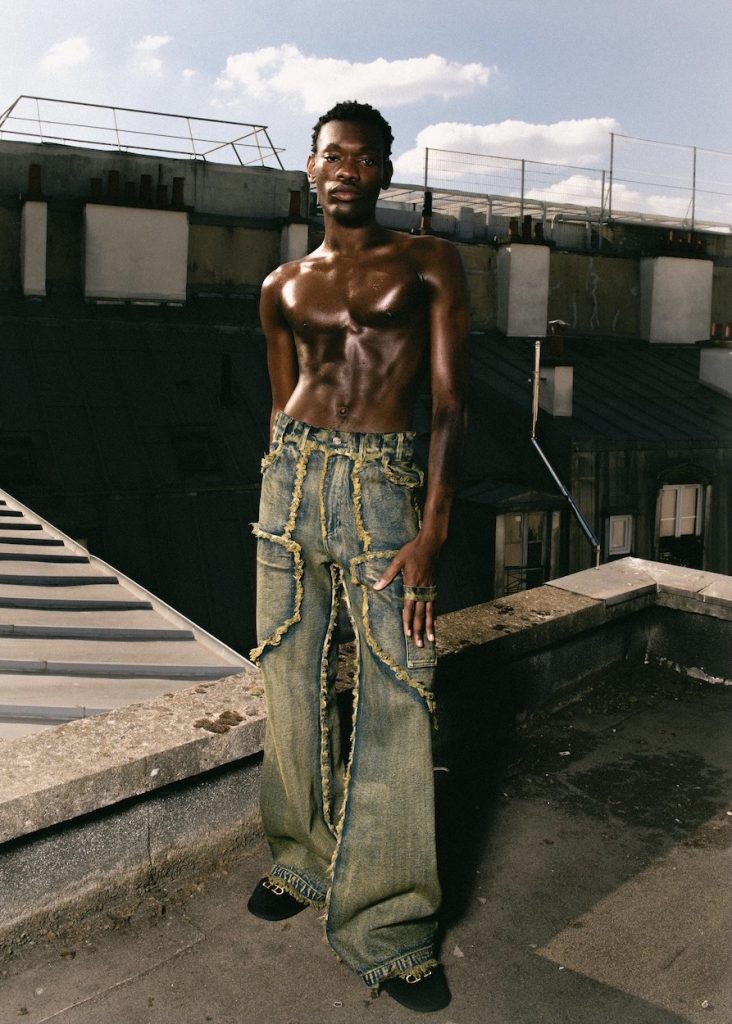 What is your first memory of fashion?
I've been skateboarding since I was eight. Once you've been in the skate scene, you'll never lose that passion for skating. Back when I was skating, I often saw shoes that I thought were cool. I was never allowed to get a shoe over 30 euros. So that the shoes last longer, I always glued over them. That's where this love of sneakers and the connection to fashion comes from. I have also been really interested in interior design as well. Being a child, I always saw windows and houses that were really cool. Shapes that I already found really great. Very early I also wanted to be a hairdresser and have always cut my own hair. I was always kind of a creative head.
What was the first piece you sold? And how did it feel when you sold your first things?
The first thing I sold was not from my brand NO/FAITH, but through my personal Instagram. I made shirts at skate camp back then with screen printing. I printed a lot, took them to school and sold them. That was kind of cool. You sold a shirt for 15 euros at every break. They actually sold well, there were only 30 shirts, but still, it went well. I mean, the shirts cost 2 euros and screen printing ink costs maybe 3 cents for a shirt. That was already a cool feeling. Then I bought my first awesome Jordan in 2014, but I sold it a year later to buy my screen printing machine. The first jackets I released for NO/FAITH, I went to military stores, got some blank jackets and asked my grandma, if she could sew a patch on it or sew a long stripe, so it looks cool. That was not a thought out design but that was just like, I want to make jackets now. At that time I couldn't yet screen print. I had a print shop here that did it for me. That was not on any level. But somehow you start.
How did you come up with the name NO/FAITH STUDIOS and what does the name mean to you?
NO FAITH means that you shouldn't trust anyone but just do your own thing. That's always been the mantra. I mean, I live in the Eiffel. If you don't live it, it's hard to get ahead at all. The name describes this attitude of just believing in yourself, just doing it no matter what anyone else thinks. I don't regret anything I did back then. That's kind of the main thing.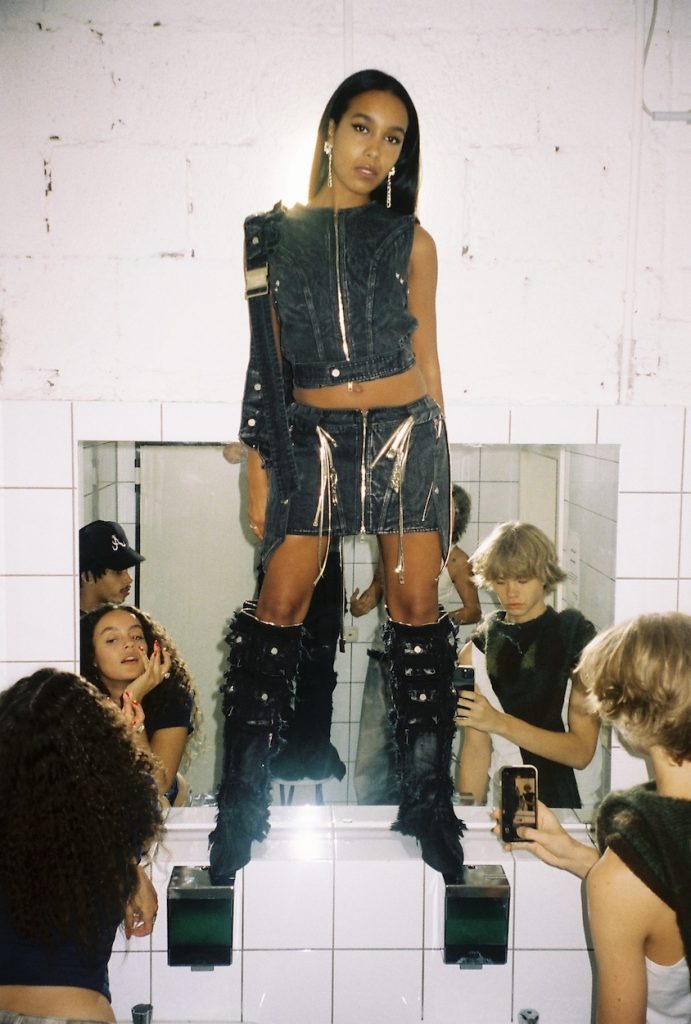 The people you work with are also your friends. You work very closely with your people and also have a rather small team. How exactly does that work for you and what does your community mean to you?
It's very important to have a close team or community in the beginning. The biggest ones aren't there all at once. They had a team too. If you don't have that team, then you're not going to get to the top unless you have somehow rich parents. For me it's really important, that I have a team I can trust. A team, that I can argue with, have conflicts with and speak on the same level.
And what about sewing?
We have local tailors here in the area. Be it Resi, who is sixty years old and has knitted us sweaters and can design us any look. They don't get it, but they can make it look so cool. In the end, the quality has to be right. That's just Team Eiffel. Especially here, in this small community, you have grannies who have sewn something. That is simply my community and I really enjoy being here. That's why I would never give it up, this loft. Even if I ever have space in Paris or Berlin, I still want to have a base to come down to.
So don't you want to go to bigger cities at some point or to explore the fashion world?
I don't have to go to Berlin or Paris and meet with like-minded people. I also just like to chill with the locals from around my place. I would also go to Fashion Week in jogging pants, but I don't give a shit about that. I just want to do my thing and not have to talk to people at a loss. That's not me. I'm not having conversations that I don't want to have. That's why this small community is so important to me, because I have my friends around. So, as long as I have my little base here, that's the most important success. I often get requests from publishers or television channels. But if I feel uncomfortable, I won't do that. Although I would perhaps sell more. Right now I just don't feel ready for something like that and then I rather honestly say, that it doesn't fit right now.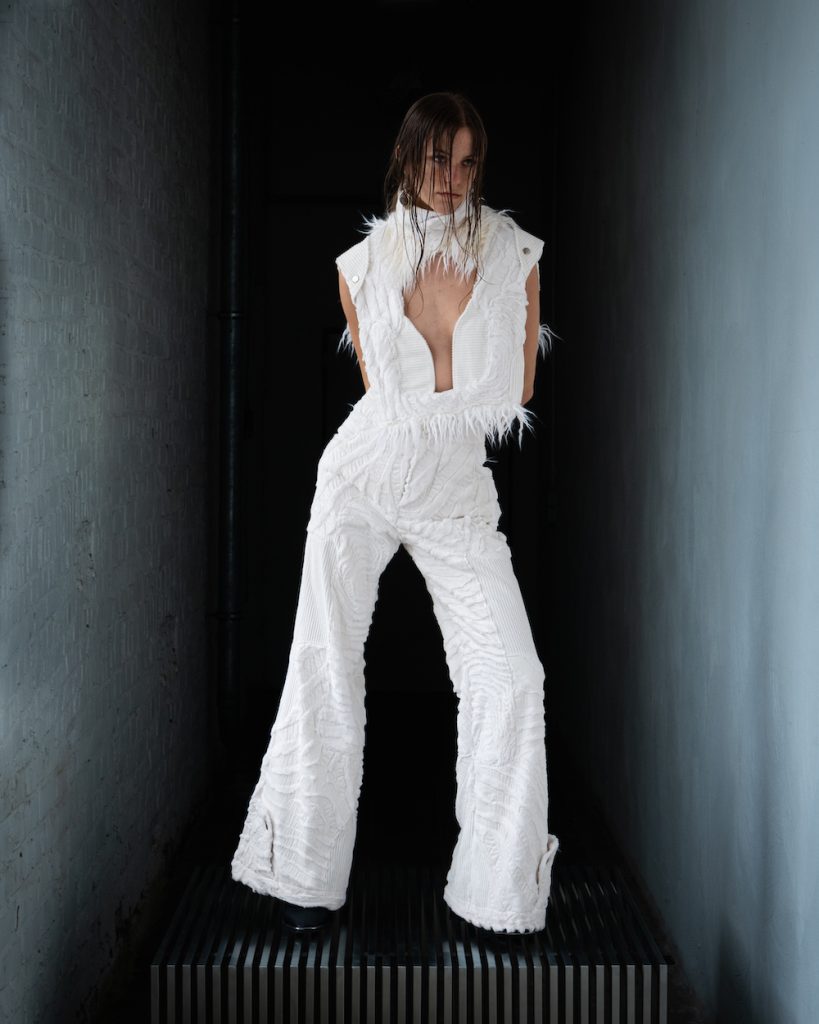 As an independent designer you are kind of dependent on social media, precisely Instagram. How do you feel about that?
For me it's crazy, because in the end, I have learned nothing. I never went to a fashion design school. I also don't have parents who come from the fashion industry. That makes it even harder to get in touch with people. That's why Instagram was the only platform that helped me. Without Instagram, it wouldn't be like that now. It's also amazing what difference a platform can make. So many people, live only through Instagram. But we want to reach this point now, at which we are independent of Instagram, so that the brand will exist when Instagram is already dead. We want to make that leap.
How would you describe your looks yourself? Or even your aesthetics?
I'm a big fan of the early 2000s. We want to keep the Y2K aesthetic, but make it more modern. I'm also inspired by these used looks. Some of our pants look as if someone had just been on the construction site and got dirty. Just that used and deconstructed. Combining this used look with sexyness, that is what I wanna do. I'm also really into leather lately. I associate it with pure sex. With Denim, it would create a real fucked up look. I celebrate this combination of both things, this elegance but still this fucked up look, that breaks this elegant feeling.
I also see more and more people wearing your pants in Berlin. You are already known for your Flared Denims. How do you feel about this hype?
It's crazy. We did a pop-up store in Berlin in september. I think that's why a lot of people from Berlin have them. We had one colorway that was only for the pop-up. In real life, it's a completely different feeling, you appreciate it even more, when people buy your clothes. You're just grateful that the kids are standing in line outside. They just want to spend money on something you made. There were also parents of one dude who lives in California and they were like, we really need these pants for my son who lives in LA. He really wants these pants. That's just cool to see that people are willing to spend money on your stuff.  I don't think there has been such hype for an upcoming fashion brand in a long time. We went there with a really good number of pants and it was all gone. I thought we had way too many pants. In the end, we still had three fucking pants. That was just mind blowing. People really wanted to buy only these pants. 
What are the denims inspired by? How did you come to design them in the first place? 
The design was a quick ten minutes. The designs we do the fastest, they sell the best. In the end, you just have this drawing that somehow emerges in your head. It wasn't a big inspiration from some designer or something. I was just thinking of designing a jeans wash, that i like.
Why is denim in general such a special material for you?
These pants are very commercial for me, but still have a cool vibe and are pretty unique. It perfectly meets the spirit of our time. I think the price is also the most important thing. I once made the Denims more expensive and we sold much less. I think the price has to adapt to the target group. And what do you want to achieve? Do you want to go for quantity? Do you want to keep it limited? We're going to have a lot of products that are limited. The flared Denims will be never out of stock, because with them we finance everything. In the future, we want to have a mixture of limited things that we have in small quantities and things that are simply always in the store. Otherwise we don't have a store. We want to move from this kids target group to these people who buy leather jackets for thousands of euros. That's the narrow path we're on right now.
If you look at the future now: What are you up to?
We want to focus on leather and denim. We believe that the two fabrics go well together and give a huge amount of possibilities. You can also make so much out of leather and denim. I don't think I've ever seen that in Germany. That's why we don't want to focus on hoodies, because there are already enough brands for that. We really want to work with the fabcris denim and leather. We just created the Wave Denim. We also made a bag out of the fabrics, a skirt, a dress and a coat. We want to spread denim out on to multiple looks. And now, with my new stuff, a new time is coming. First, I want to build a good team, that sticks together.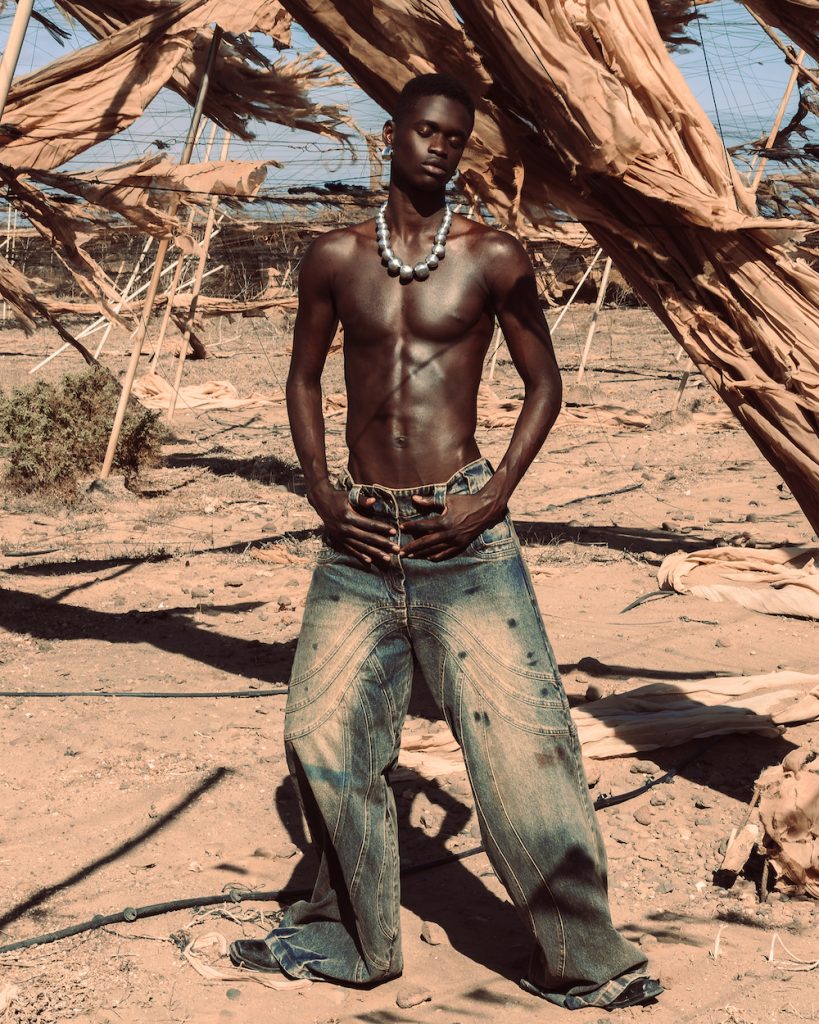 And how are you going to build your team like that ?
I'm just getting started with my friend Mo. I also hired my brother for customer service. Adi a very good friend of mine from the neighborhood, always helps me with packages. There was not a day where he hasn't helped. We would rent another room, so I have a storage room. But that can only happen when we really have permanent stock. The problem is that I can not estimate the hype at the moment. I just ordered 500 denims and 480 are already sold. I have again only 20 Denims left. I just don't want to take the risk and order more, because it's a lot of money, if you are independent. I also have no investor, but I want to keep the circle small for now. So fast fashion, just doesn't fit. For me, it doesn't matter how much money an investor want to spend on you, the brand is your baby. I just wanna avoid to be forced to create something, I don't like. If it's the right person, it will fit.
Would you like to see anything change in the fashion world?
This superficiality. This superficial thinking that you don't get in somewhere if you don't look like this or like that. If you have sweatpants on, you're often not taken seriously. So, that's what you got in this whole fashion world. You experience an extreme adaption in the community. Now that NO/FAITH has grown there are also people who have not looked at me before, but now want to connect. Right after my pop-up event I saw masses in my pants at a party. But I didn't get in, because they didn't know who I were. If it doesn't work, I don't need to prove who I am to anybody and make a big thing out of it. I accept how it is and leave it that way. I just want to be treated as if I were a guy who studies next to me.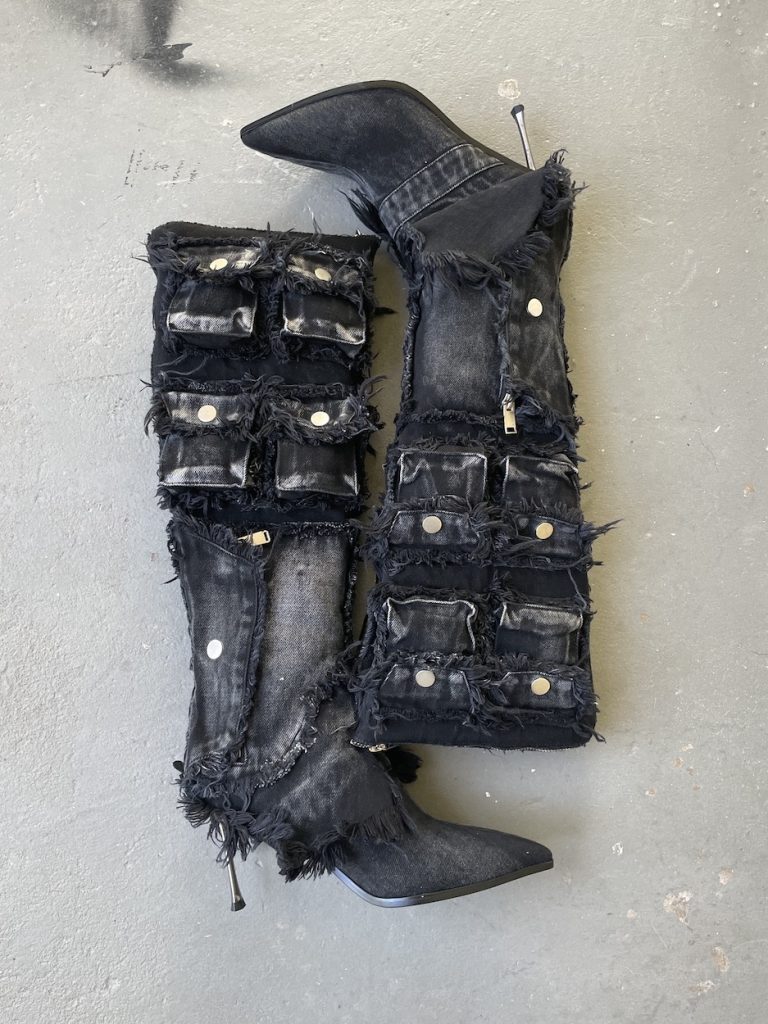 You recently designed boots for Kylie Jenner, how did you come up with that?
The stylist just hit me up, that she needed an outfit for Kylie Jenner. We just talked on the phone and it seemed all legit. She sent me all the measurements and then we designed the boots. We also want to shoot soon with the boots in Berlin. With ten girls, we have it already pictured in our heads. We have only made a small delivery, with not such a large number of shoes, because we first want to see how it sells. The models also have a denim vests on, like a mafia. I'm definitely excited about that.
Where do you generally get your inspiration from?
I think through shapes in everyday life. Be it a floor or tiles. Whenever I go to the city, if I see something that looks cool or worn out, I remember that. I don't get inspired by this or that style. I do have brands that I celebrate. But my designs that are dropping now are more inspired by impressions I've seen. Everyday patterns. I saw so many unusual floors in Paris, that was just awesome. I also took pictures in a park in Amsterdam and in an industrial giant garage. We applied these shapes to a bag on a leather jacket.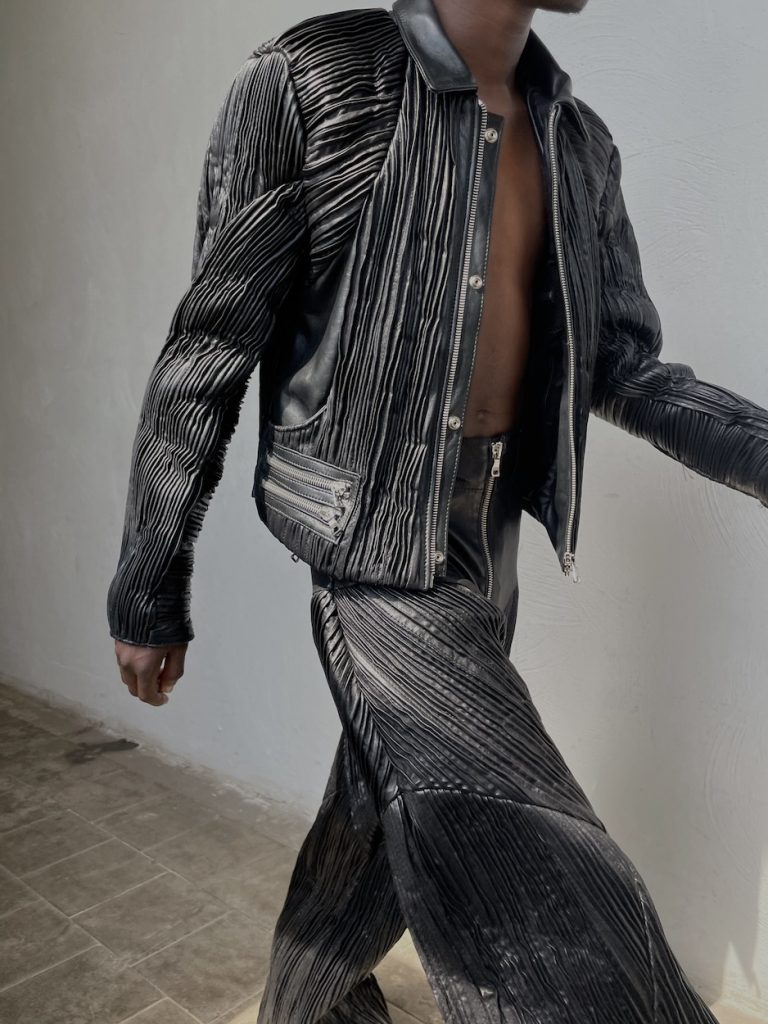 What would you say is your biggest challenge coming up now?
To make that leap. From creating denims to putting out a high quality collection, that sells. We have the denims as a hedge, but it would be sick if the new stuff, would also sell. It would be so awesome to just create some sick dress, knowing it sells for 6000 euros. That's unattainable for most people who have an upcoming brand and are independent. Recently however Sierra Kid, who is actually a really cool guy, bought a leather jacket for 2,200 euros. There is a person who just spends 2,200 euros, so he can wear this leather jacket. That is a completely different feeling, as if you sell 15 pants. But that's why somehow this independent path is so cool, because it's a completely different impression that you have as if you were under contract. I have to say that there is a lot of pressure on me and a lot of stress. So, this total package is just difficult. I really just want to create upcoming designs and don't want to sit here and think: I've got scores that I have to do, I've got calls, I have to write with four productions at the same time. My goal for next year is that I focus on creating. I don't think there's any industry in Germany that runs it the way, we are doing right now, that really does such large numbers on its own. I sometimes think it's so stupid doing it on our own. It's important that we now have more structure, so that NO/FAITH can change and grow.
Where do you think you'll be in ten years?
Somehow I don't want to think about it. I just want to live right now. Live and enjoy. Maybe it will be over in 5 years. Nobody knows, but until then I had a great time and I did the shit I loved.
Interview Luisa Kühne
Picture Courtesy Luis Dobbelgarten