Numéro Berlin's weekly collection of the most exciting news about fashion, music, and simply everything that is on our radar. And here is why it should be on yours as well!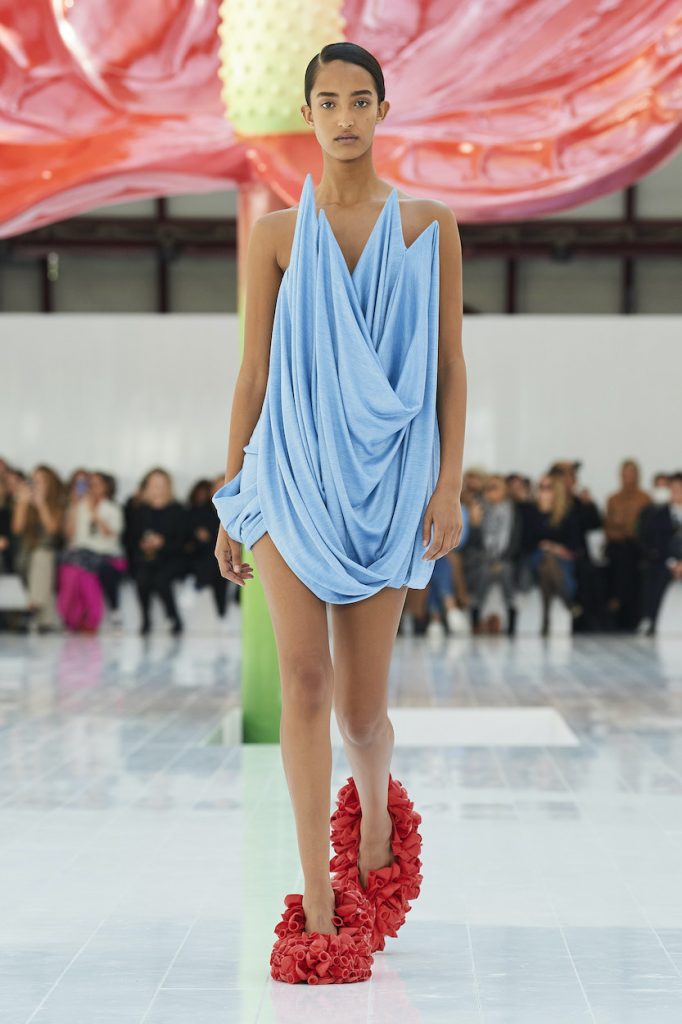 LOEWE SS23
LOEWE has presented the Women's spring-summer 2023 collection during Paris fashion. This collection focuses on lines, colors and shapes. The collection reinforces a natural look, reducing and redesigning the garments, with special tensions, precise shapes and silhouettes. Manufactured bags have a neat shape. Short dresses are very short: shrunk, either enameled metal with floral pattern
or made of twisted compact knit. The same goes for leather and hunting jackets, which are almost reduced to miniatures. Shirts and Chinos are twisted, padded, stretched and reproportioned, while light plays with texture, absorbed by velvet and waxed cotton, reflected by enamel and leather. Loewe is known for the process of draping, and also in this collection you can it's shown. This collection is a blunt design statement, amplified through the act of reduction.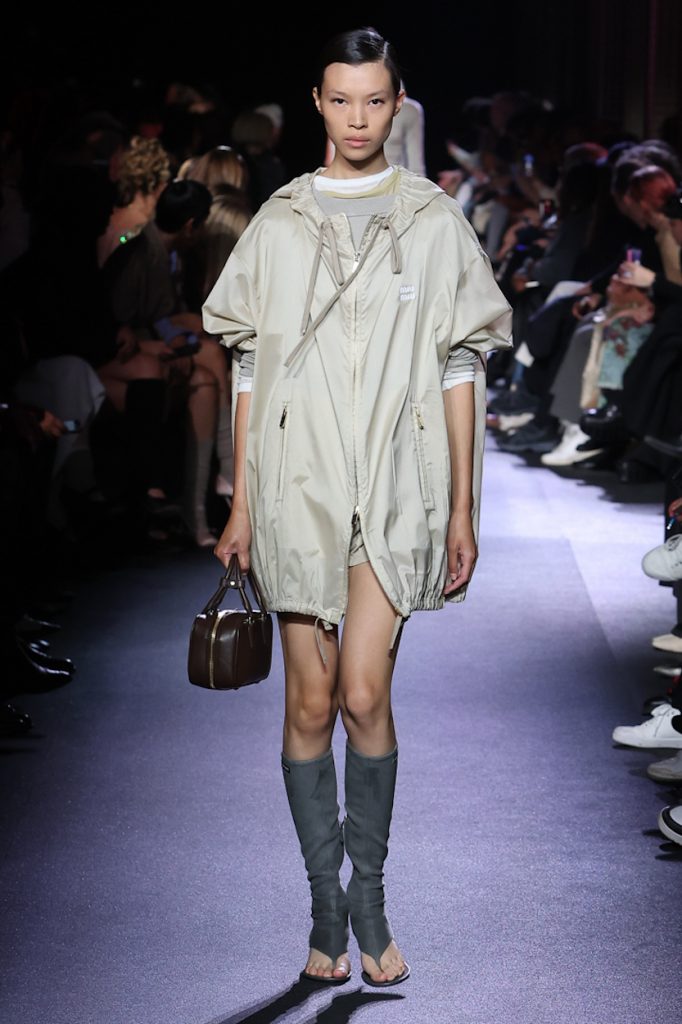 MIU MIU SPRING/SUMMER 2023
The Miu Miu Spring/Summer Collection by Miuccia Prada is about the transferral of feeling and response into result. Fashion is part of real life – it has a use and a purpose, both to adorn the body and to
Express feelings and larger issues around the individual and culture. The notion of usefulness, utility and service of fashion, influences physical expression: Pockets, an expression of utility, are used in various garments and cross the boundaries between decoration and function. The complexity comes from layering cotton, silk, and cashmere in deliberately subdued colors or nylon jersey in sharper tones. Their interplay creates surface texture, a form of decoration that is created by the garments themselves and not in contrast to foreign applications. In the continuity of the two previous seasons, echoes of classic garments – tailored jackets, coats, shirts, sweaters – are proposed anew, revisited. Here unexpected finishes in leather or washed denim can find their reality leather or washed denim. The collection is shown on a cast of all genders, a challenge to convention and an embracing of our new reality. The character cast included Esther McGregor opening the show, with Ísadóra Barney, Lindsey Wixson, Ethel Cain, Miranda July, Sibyl Buck, Emily Ratajkowski, Bella Hadid and FKA Twigs who closed the show.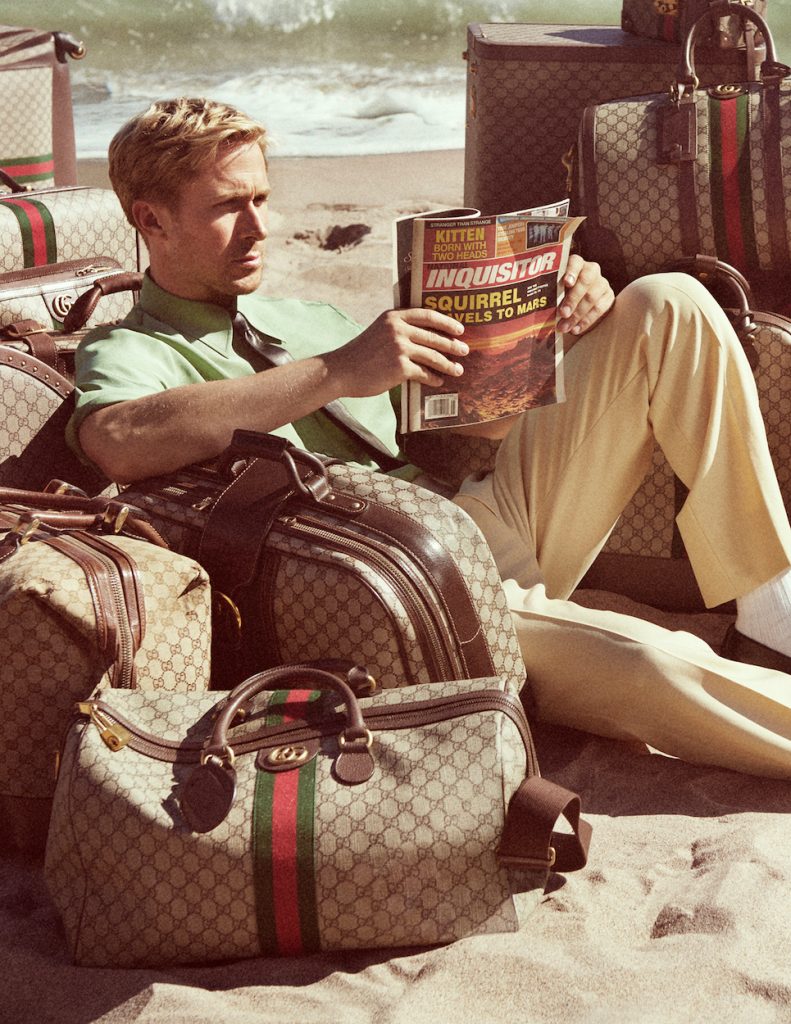 GUCCI VALIGERIA
Gucci launches Valigeria campaign starring Ryan Gosling, bringing luggage category to the fore. The new campaign by creative director Alessandro Michele and photographer Glen Luchford, shows that suitcases are not just a container, but linked to origin and experience. The campaign tells a dreamlike story, that is built on the possibilities of imagination and of an encounter. The Gucci Savoy collection is the narrative result of a story that starts from the typical splendor of travel, to highlight the value of remembering the origins of a brand born from an intuition and observation of possibilities, precisely thanks to travel, discoveries of worlds and different cultural behaviors. Ryan Gosling lives this dream linked to reality. Through his suitcase he gets to know surprising places that become the gateway to beautiful worlds that prove to be more real than any imagination. The same containers appear as protagonists in the campaign, which presents the Gucci Savoycollectionincludingtrolleys, hard and soft suitcases, duffle bags, trunks, hat boxes, and beauty cases.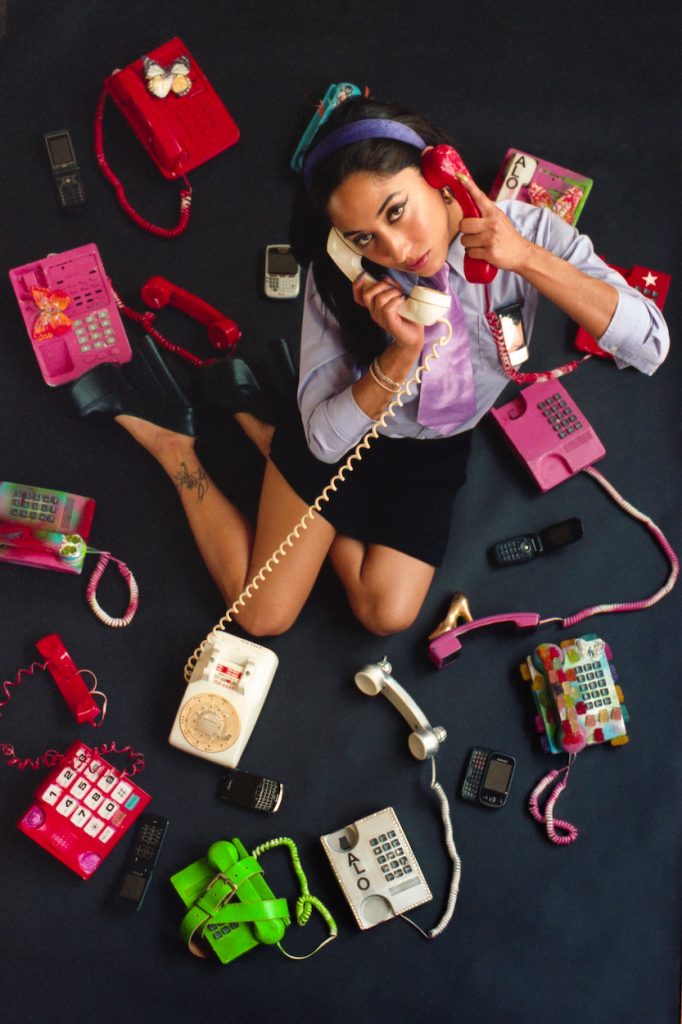 ISABELLA LOVESTORY RELEASES AMOR HARDCORE
Isabella Lovestory announces her new album Amor Hardcore. The album is Isabella's most personal statement yet as an artist who refuses to be defined language and genre barriers. Amor Hardcore is another exploration of their psyche, revealing dreams, nightmares and fantasies most would shy away from amidst a collage of reggaeton, experimental pop and industrial electronic rhythms that make up their vision of perreo pop. The album pays homage to neoperreo contemporaries like Ms. Nina and highlights progressive new voices in Latin music, like Chucky73, MethMath and SixSex. The whole album is colorful, loud, with strong lyrics and even stronger images, full of glitter and glamour, and extreme imagery that stands out. It's a journey of expression of love, full of contrasting lights, sounds and rhythms. Sweet melodies blend with aggressive sounds, that seem to explode. The songs are stories of love, sex, life and the rage, ecstasy and humor all in one. Amor Hardcore is her first full album of experimenting with sound and expanding it without any restrictions or rules.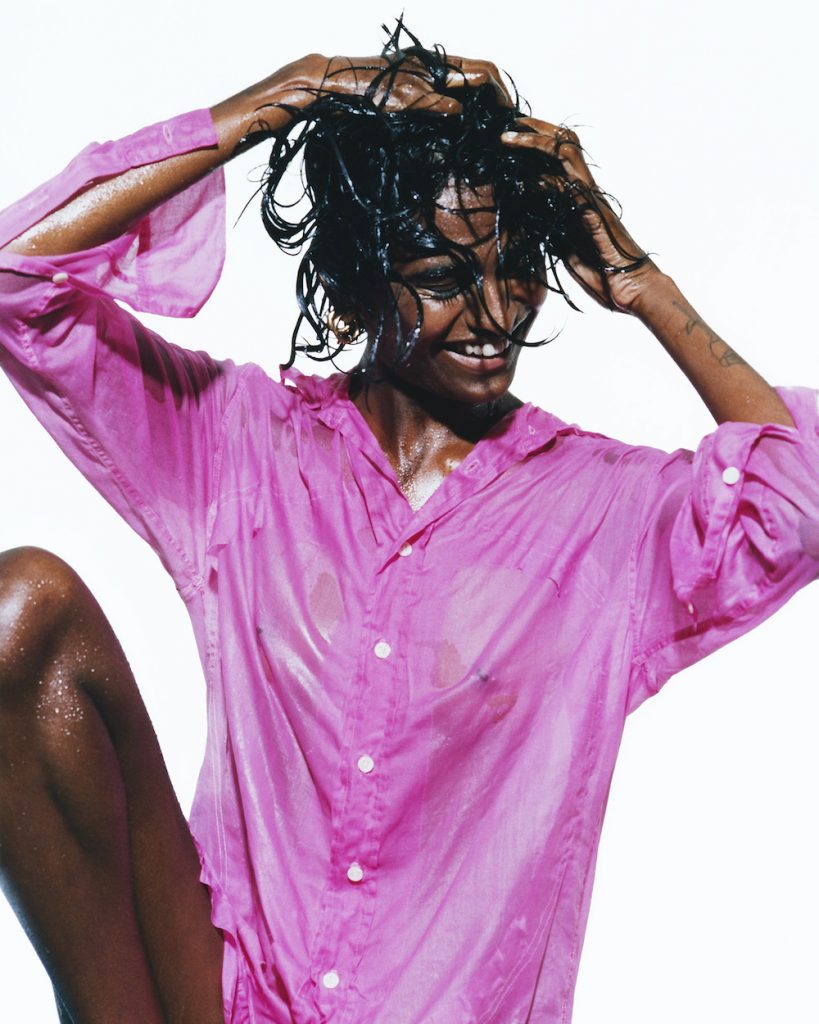 EDWARD CUMING – SS23
Edward Cuming launches THIRSTY , the new collection. Spring/Summer 2023 is a celebration of growth, fearless experimentation and unexpected excitement of another summer soon gone. Edward Cuming is playing with concepts of inversion, reversing traditional techniques and highlighting imperfections that are usually hidden. This season, the focus is on transformative fabric processes, a play on weights and colors, and sharp but surprisingly soft cuts. The garments are as seductive as they are practical to wear. The collection includes deconstructed, elegant elements, cuts in soft shirts and technical fabrics, body-skimming silhouettes, multi-layered lightweight jerseys, hot-washed silk and linen shirts or coats, and eye-catching block colors. The collection really comes alive because of experimentation and transformation. Crafted silk-cotton shirts are hot-washed to transform into pieces passed down through generations. The heavy silk lining of piece-dyed, effortlessly thrown-over coats creeps out after a wash. The experimental process continues in this season's colors. Bold purples, greens and pinks combine to elevate baggy pants with patch pockets, draped, cut-out jersey skirts or familiar, lined layered shirts. A bright orange jacket and tailored pants are muted by a top layer of thin cotton organza that reveals just a hint of the base color, reflecting the last rays of a sunset. Shoes are made in collaboration with Adam Signature. Moreover the collection introduces a limited edition concept bags made from dead-stock tapestry fabrics in the coarsest colours. With this collection Edward Cuming wants it's wearer to feel bold and confident in what they wear and who they are.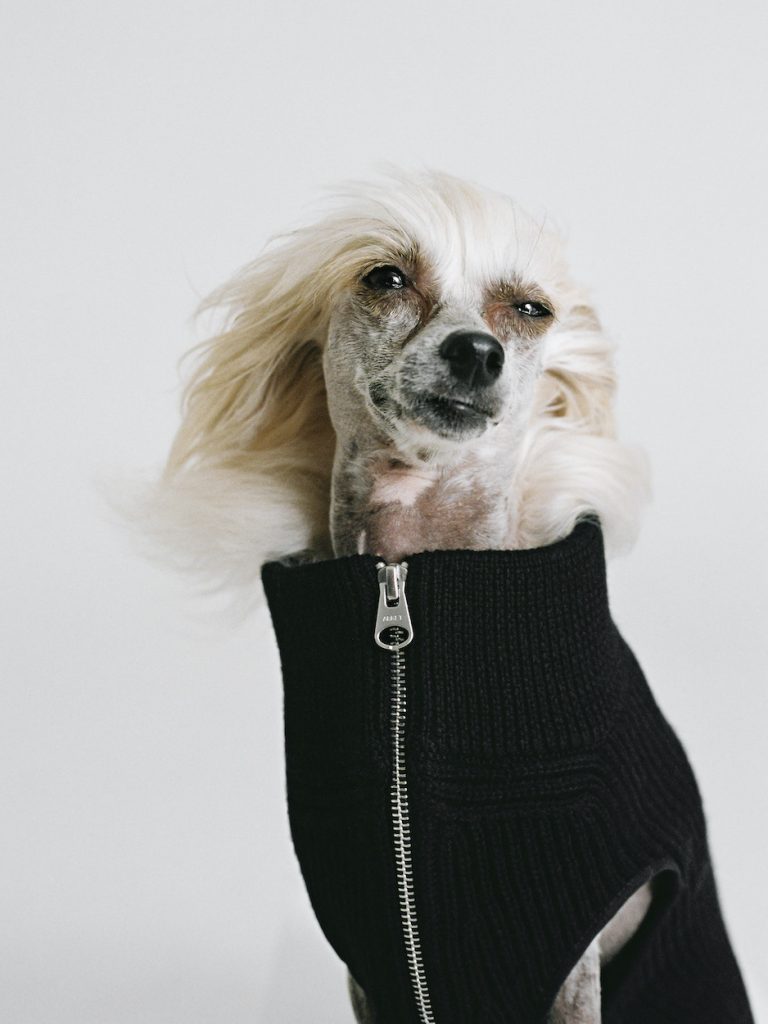 ARKET PRESENTS DOG COLLECTION
ARKET launches for 2022 a collection of clothing, accessories and home accessories for dogs on the market. In line with the appreciation for good Design, fine materials and durable products, which is fundamental to ARKET, the collection expands its vision to meet the size and needs of dogs and their families. The collection includes a series of pieces that incorporate some of the features of ARKET's signature styles in human sizes, such as a zippered sweater knitted from responsible wool, a quilted jacket with upcycled DownTM fill, and a protective raincoat made from recycled materials. The range of accessories includes a safety harness and leashes made from chrome-free leather or sporty nylon. For the home, the collection offers dog beds with
machine-washable covers and dog toys.
Picture courtesy of mentioned brands/PR