Made in Spain, located in London and literally poped-up in Berlin: Miista has originally been founded in order to create shoes which have a democratic price point for a luxury item. Today, the brand offers a whole collection of footwear, clothing and accessories and teamed up with the independent international record label City Slang for it's previous pop-up-store in the capital of Germany.
Laura Villasenin, the woman behind this label, organized weekly DJ sets, workshops, live stylings, panel discussions and resident tattoo artists together with her team for this pop-up in order to show off the AW22 collection to the Miista family in real life.
Laura told us everything about the vision of her brand, her life in London and her plans for the future.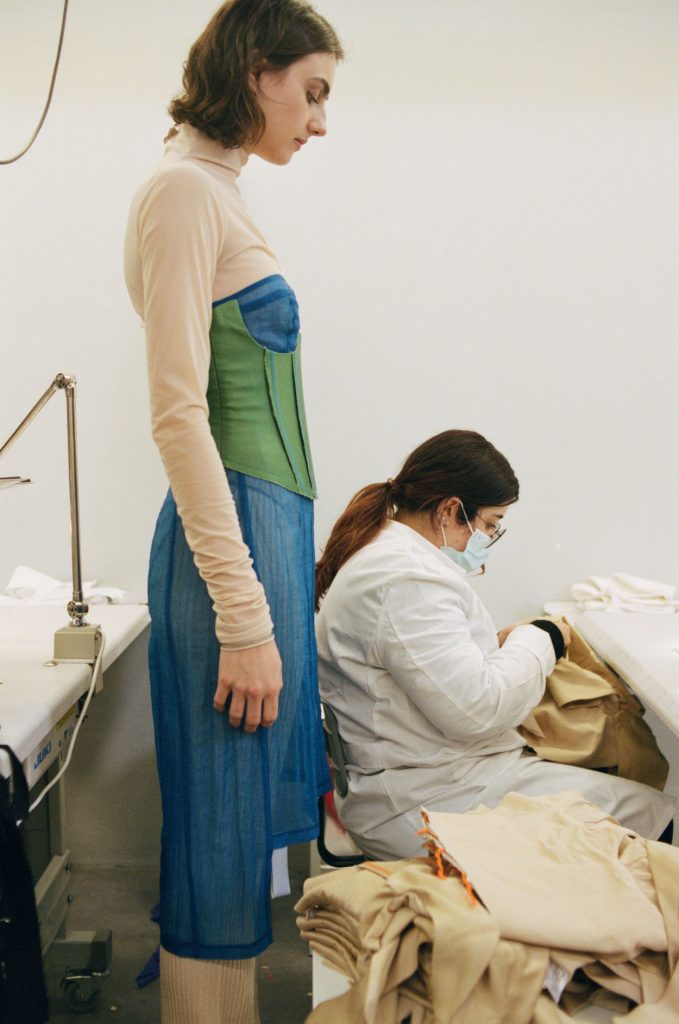 You moved to London in 2001 in order to attend university. Now, over 20 years later, you're still living there, leading your own brand. Which influence had and still has the city on Miista?
I moved to London in my early 20's, what I loved about London is how multicultural and open the city was, and still is. There's a sense of freedom in the way people dress which I love and this has definitely influenced our designs. We are still independent which comes with a lot of pressures and challenges, but having this freedom allows me to design without external compromise.
The name Miista comes from the ideals of the brand – mixing things up and giving it a twist at the same time. To what extent has the brand changed and developed over this period?
I feel Miista has evolved in so many ways, but our core values remain the same since day one. Creativity, craftmanship and collaboration have always been pillars of our brand and in today's world this is more relevant than ever before. I am so proud we managed to evolve while staying true to who we are.  Two years ago we decided to start our own small size clothing factory while launching a new category. Now we are not only a shoe brand. We started our own clothing factory in Galicia, where we originally come from, with the aim to retain the amazing textile craft knowledge that still exists there. Retaining and pushing forward the craft knowledge is key for us to be able to push ahead with another of our core values and key to our business – "A Short Supply Chain" in the way we produce and make our business as sustainably as possible. Designed in London, and fully EU sourced and EU made.
What made you choose Berlin as the city for your pop-up?
I have always been drawn to Berlin for their rich Music and Art's scene. We also have a strong Miista community there that shops online so it felt like the perfect chance to give those people a way of trying Miista in real life and interact with the product and our team.
What has led you to working with City Slang Records? And what do City Slang and Miista have in common?
Music has always been a big source of inspiration for me. I have followed the City Slang trajectory since the 90's . I think what we have in common is that we are both risk takers, they take risks in artists and we take risks in products. It's about trusting your instinct and going for it. The beauty of being independent creative companies.
You are organizing a lot of interactive events in order to expand the Miista family. Which plans have you got for the future?
The Berlin pop-up has been a massive success in terms of meeting and amplifying our community, and we would hope to come back next year in a more permanent way. We are also working on a big activation next year in New York. I always feel energized while meeting our community throughout our events and whilst working in the pop up myself. I enjoy seeing our followers interact with the product. Seeing their reaction makes everything we do worthwhile.
What was your highlight during the pop-up in Berlin? 
Too many but our panel discussion is pretty up there, having a conversation on creativity and collaboration, discussing the realities of running an independent creative company in today's globalized world with likeminded peers was very special and unique to our position at Miista. We also recorded an episode in collaboration with City Slang and Refuge Worldwide bringing together an amazing lineup of musicians. The entire month's program of events was so much fun and each person we met was truly inspiring each in their own right.
What are your plans for the future in terms of the brand?
Inclusivity on sizing is something close to our heart but it takes time. I hope we can offer extended sizing on some styles as from next year. And we are looking for a permanent space/store in Berlin, now that we had such a warm welcome with our first pop-up.
Interview Stella Raschke
Picture Courtesy of Miista