This winter, Dior presents a remarkable Christmas lighting on the entire building of Harrods in London. For this celebration Dior transfers its elegant approach to the House and brings the Christmas spirit to life.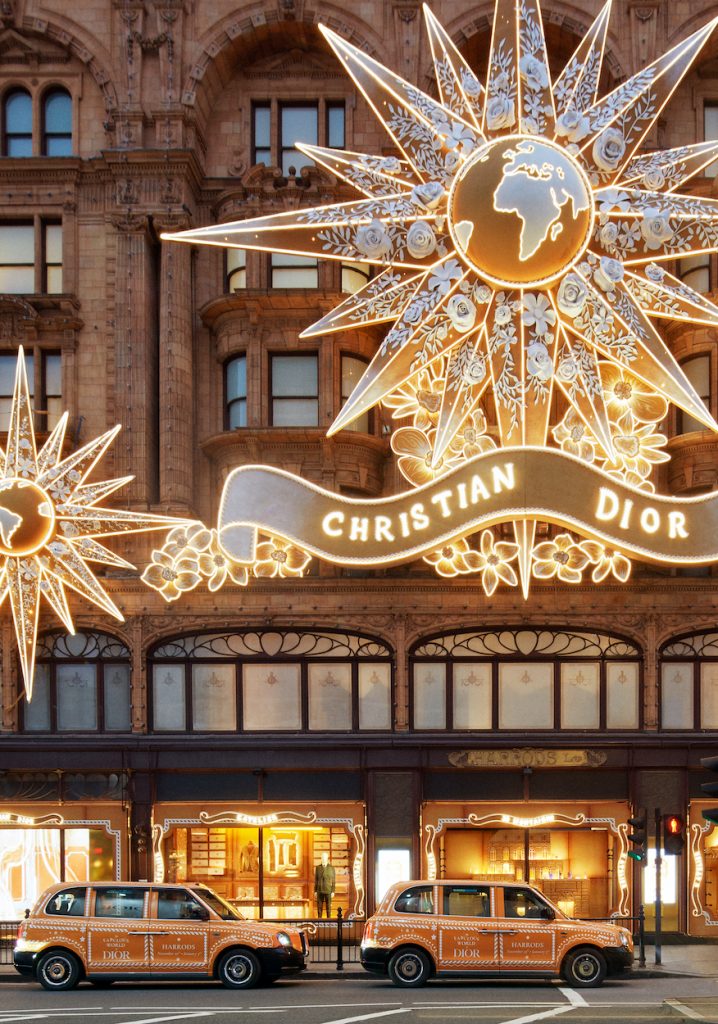 Dior is the epitome of Parisian chic: evening dresses and imaginative creations. The fashion house was a pioneer in hem length, skirt width and figure-hugging designs, as well as the general art of designing the perfect cut. For the winter of 2022 Dior has come up with something very special, evoking nostalgic feelings. The Harrods in London is transformed into an oversized gingerbread house, which reflects the life and career of Christian Dior in a playfully magical way through small and large installations, which run through both the interior and the exterior of the iconic department store..
For the first time ever, each of these iconic windows from Brompton Road to Hans Crescent, across part of Basil Street are transformed into a miniature theater of wonder, with backdrops of gingerbread.
The installation is a reinterpretation of sketches made during an exciting dialogue between Maria Grazia Chiuri and Roman artist Pietro Ruffo for the Dior cruise collection 2023. This monumental work shows the compass rose, a precious symbol dear to the heart of the founder of the fashion house, magnified with poetic motifs that express the classic references of Dior. In a celestial choreography, the lucky star blooms on the ornate Edwardian architecture of the facade sparkle to infinity. Like a magnetic shepherd's star, a central sculpture – with an impressive height of seventeen meters high, the building's largest structure to date, to dance in front of the British department store's dome and show visitors the way inside. A few steps further, on Hans Crescent, the entrance at door No. 5 is again crowned by a majestic forest of bisque firs. This evocative image, which presents the Knightsbridge district with a dazzling tableau, invites young and old alike to stop time and bask in the exhilarating experience of the moment.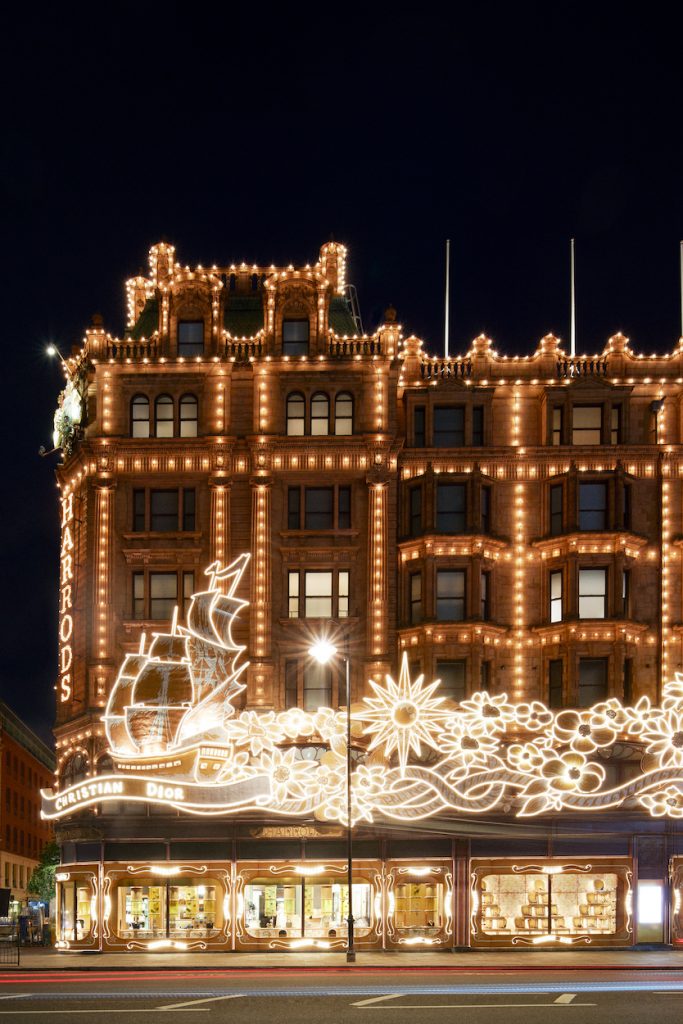 At the heart of this exceptional staging and through the discovery of the two boutiques of the house in Harrods, Dior invites visitors to live a unique adventure, thanks to the original products specially designed for this event: an ephemeral gift shop, homeware items in the Dior Chez Moi capsule and a series of t-shirts feature prints that assert the Creative Director's socially aware vision. Above all this collaboration shows not only stellar illuminations and displays, but has also created two new pop-up boutiques, a unique exhibition and Le Café Dior, that visitors will find inside. The Dior Prestige ritual, lipsticks and fragrances such as J'adore, Eau Sauvage, Miss Dior and the olfactory La Collection Privée also appear in sumptuous displays, sometimes depicting a fir forest of cookies sometimes a cheerful tangle of balloons, representing the house's excellence in beauty from skin care to perfume.
Credit: PR