The Swiss watch manufacturer Hublot founded in 1980 made tradition, innovation and craftsmanship become their identity since day one. It was strengthened in 2005 with the Big Bang – when carbon, titanium and other fabrics have been developed to technical extremes.
Hublot's world extends to powerful partnerships including football: "Hublot Loves Football" has become the slogan at the world's biggest sporting events such as FIFA World CupTM or UEFA Champions League. For this year's FIFA World Cup 2022TM, Hublot has also been publishing a new innovative watch.
"Be first, unique and different" – this is the approach Hublot is giving to watchmaking and what is leading to collections with innovative designs year by year, never without loosing the highest level of craftsmanship.
It is not only a high-quality but also a very functional piece. The Big Bang e FIFA World Cup Qatar 2022TM is a Gen3 connected watch in the brand's collection – the highest performing and exciting Big Bang e to wear by now. The watch will definitely be the best companion for this year's long desired football event. Not only because it reminds you of the matches, it also keeps track of the days until the opening match on November 20th between Qatar and Ecuador. Plus what also makes the watch very special: 15 minutes before each match, it will give you the exact line-ups and player profiles so you will be having every detail regarding all the matches on your wrist. A special twist, however, can be found by the wearer in the possibility to customize the dial and bracelet design to one of the 32 participating countries.
Hublot is the first name in football timekeeping and enables the carrier to make every minute of the games count.
As football is known as the world's game it connects everyone of us and showcases everything that brings us together. That's one of the reasons Hublot chose to work with Mira Mikati as well as Hublot Ambassadors and Friends of the Brand for this special occasion.
The Lebanese fashion designer made a special "Hublot Loves Football" campaign logo which brims with optimism by playing with color and words.
"Just as football sparks joy on the pitch, I want my work to be a constant supply of happiness. Dreams really can come true", Mira Mikati says.
Pelé, a football icon, is one of the 15 ambassadors and friends of Hublot which collaborated on the football designs. For him, Mira designed inspired by the Brazilian's energy and humanity – using yellow to capture Pelé's sunny disposition and adding the famous silhouette of his overhead kick.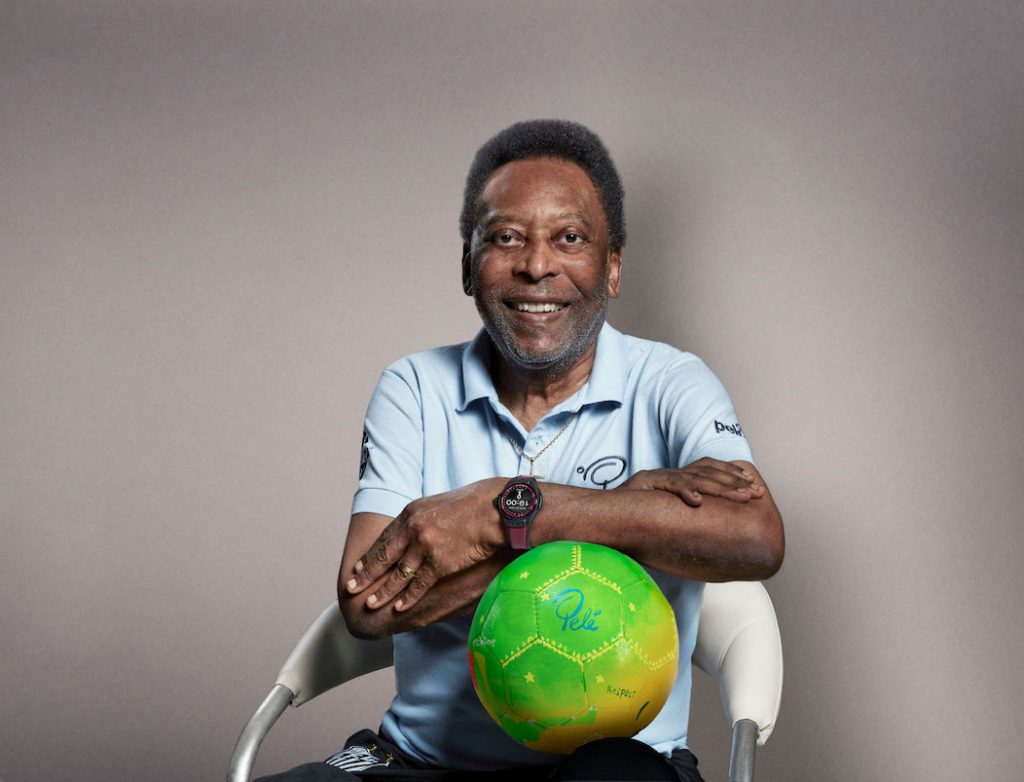 'Hublot Loves Football' x Kylian Mbappé might have been the most exciting challenge of Mira's career, she reveals. "Dream" and "dedication" may be the two concepts which underline his dedication to himself for realizing his craziest dreams which made her choose pink, his favorite color, orange for his children's foundation and blue for France and the beauty of the sky.
Together with Hublot's ambassadors, Mira Mikati wants to inspire others to dream just as big – no matter in which direction.
This is the approach Mira Mikati is also giving to designing. Raised in Paris, Mira always had strong ambitions to work in the field of design and fashion. Today, she has her own brand, designing clothes and accessories with timeless silhouettes with a special dedication to colour.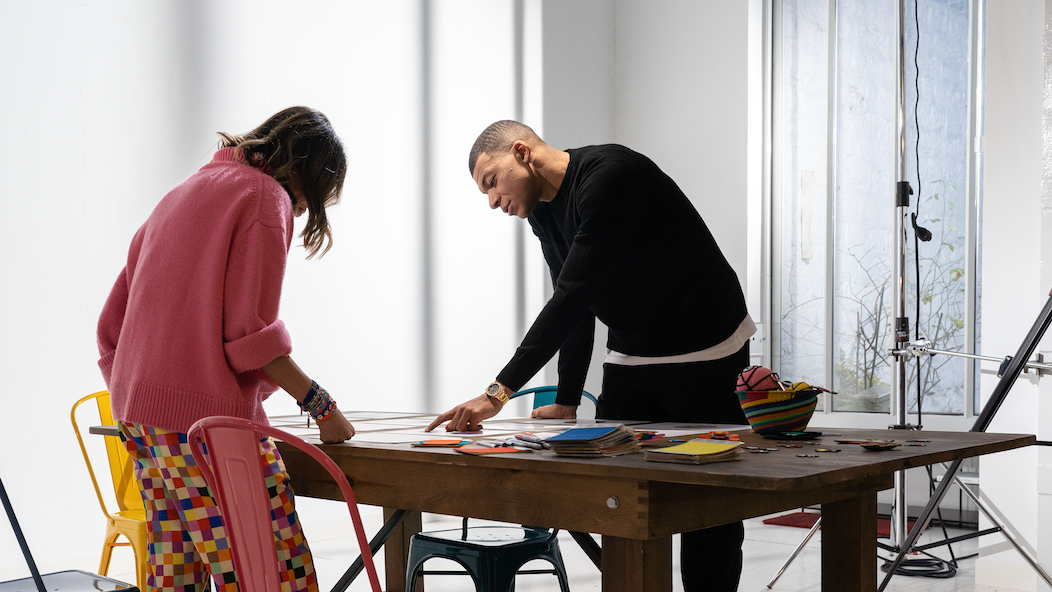 We asked her to tell us everything about her vision, challenges during the collaboration with Hublot and how she deals with creative blocks.
In a world where everyone can just call themselves a designer, what's your definition of a designer and how would you describe yourself?
We live in a world with hundreds and thousands of possibilities and opportunities. The sky's the limit. I admire designers that dream big and create their life, vision and team around their dreams. It is important to be consistent, innovative and have purpose, but above all, be passionate about your dreams. They will turn into a reality by nourishing them with hard work, adding a splash of spontaneity and channelling good energy every day.
One of my dreams is to put smiles on people's faces all around the world with my passion for colour and design.
What influences your works the most?
My forever hero is Peter Pan. I firmly believe JM Barrie's words: "Dreams do come true, if only we wish hard enough. You can have anything in life if you will sacrifice everything else for it."
I also love artists Javier Calleja, KAWS and Takashi Murakami, and baker and author Amirah Kassem. They all dream in colours.
When I start designing a collection, I always think of how I want people to feel when they discover my world. I want to make people smile. I believe in the power of colour. Looking at the blue sky, admiring the yellow sun, pink flowers and so much more makes me happy. As Wassily Kandinsky said, "Colour is a power which directly influences the soul."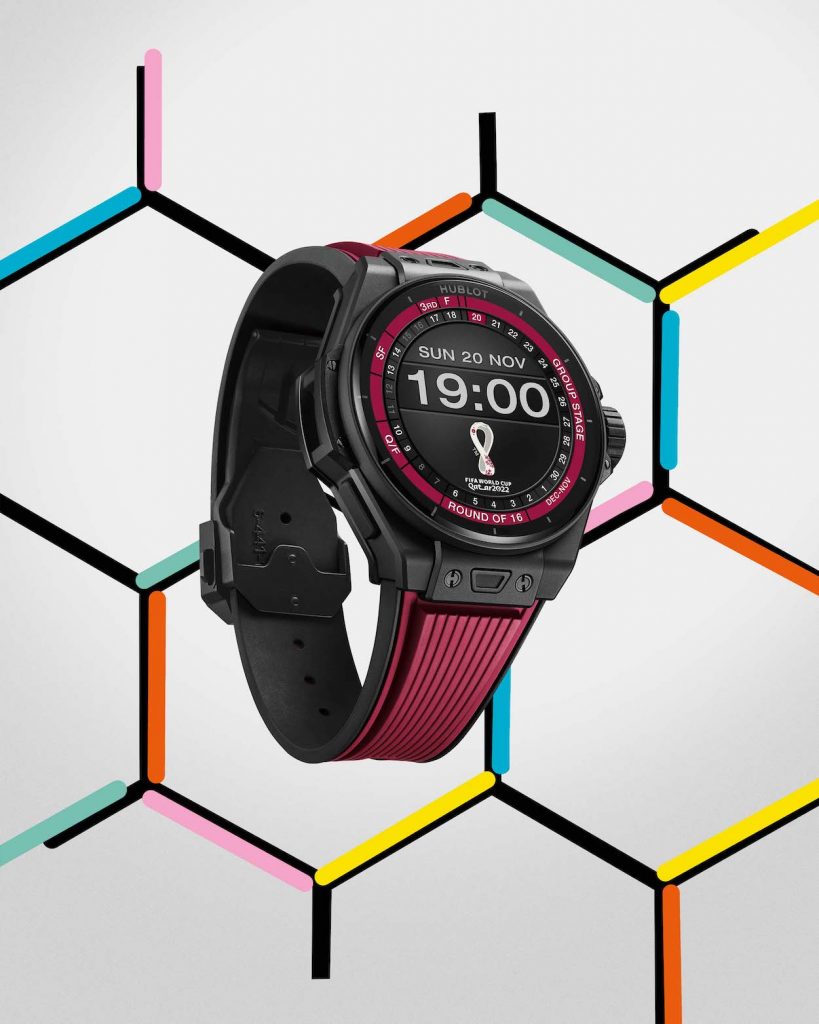 What was your main inspiration for the collaboration between your aesthetic and Hublot?
I had three things in mind when I was imagining Hublot Loves Football. Firstly, the energy and emotion that football creates. I kept thinking about seeing my kids full of joy, excitement, and sometimes tears when their favourite team play.
The second was passion. After discovering how Hublot works and meeting its ambassadors, I can confidently say we share a common passion. I wanted to combine my passion for colour with the passionate and playful world of football and Hublot.
Finally, I believe in the power of dreams and imagination. I wanted to discover the dreams of the players and how they became a reality.
In what way could the designs you created for Hublot Loves Football have a positive impact on the FIFA World Cup in Qatar?
Hublot Loves Football is a celebration of colours, dreams, positivity, and playfulness. Football's superpower is that it brings people together. We wanted to celebrate the emotions it creates – the joy on people's faces when watching their favourite team and people singing in the streets when their country is winning.
Last but not least: Have you ever had a creative block? If so, how do you deal with it?
Those periods do happen, and I love them. They open my mind to new stories, inspirations, and ideas.
My secret recipe for overcoming a creative block is to look at the sky or a beautiful sunset, go to the flower market or my favourite matcha place, spend time with my family or, when I can, discover a part of the world I haven't seen yet. What is most important is not to panic.
Interview Stella Raschke
Picture courtesy of Hublot/Pr