The fashion designer Edward Buchanan has designed the new Capsule Collection "Highline" for the italian brand Fabiana Filippi. The Ohio-Born designer is a graduate of New York Parsons School of Design and now has already lived for the past two decades in Milan.
He worked for Bottega Veneta, has founded his own fashion Label "Sansovino6" in 2009 and is popular for his political and social engagement. And he is also well known for his love and passion for knitwear, as you can also see in his Capsule Collection for Fabiana Filippi.
Edward talked to us about his work in fashion, his connection to Fabiana Filippi, his passion and future visions.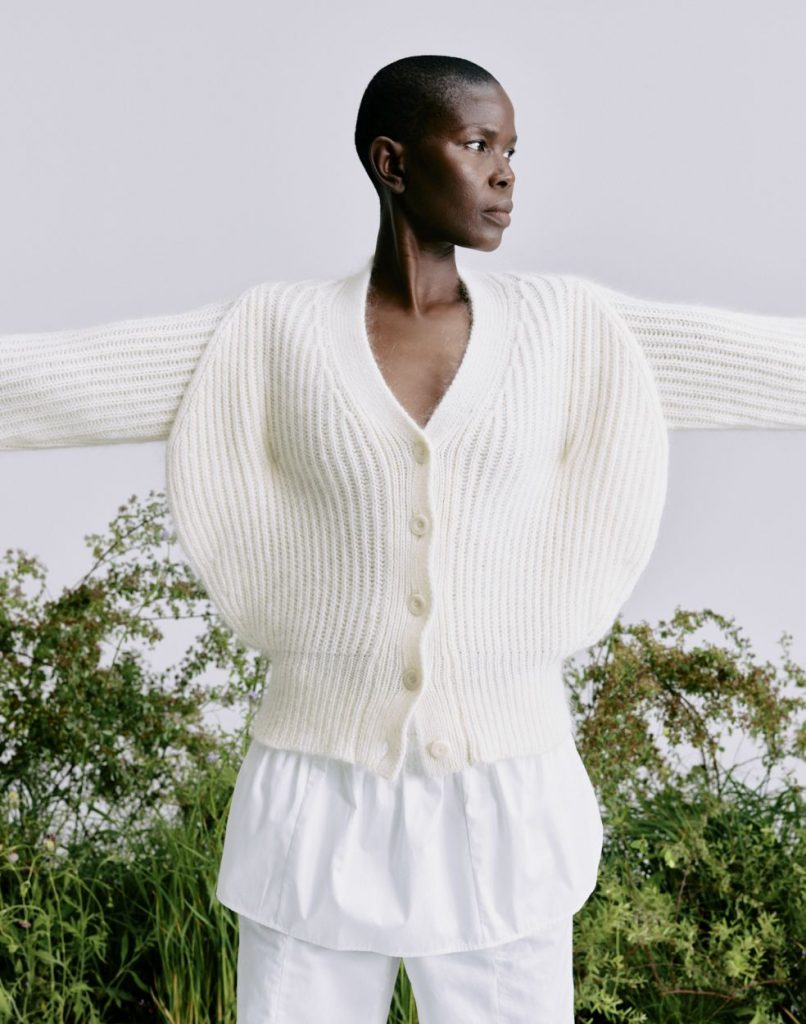 What brought Fabiana Filippi and you together and moved you to create a joint Capsule Collection? 
I met Mario Filippi by chance and we discussed the huge opportunities that exist within the knitwear market. We clicked, and started almost immediately. Mario and the team are skilled, very open, and allowed me to work freely which for me is the perfect combo for a collective collaboration.
What do you want to express with the collection in general? 
The "Highline" capsule is about separates that can be integrated into existing wardrobes. I have never desired to be a fashion dictator so my idea is to always give intelligent options. The capsule is a focus on knitwear in various gauges, with some sweat-shirting and poplin pieces which serve as wardrobing accents. My hope is that we have created some stable pieces that have appeal and longevity.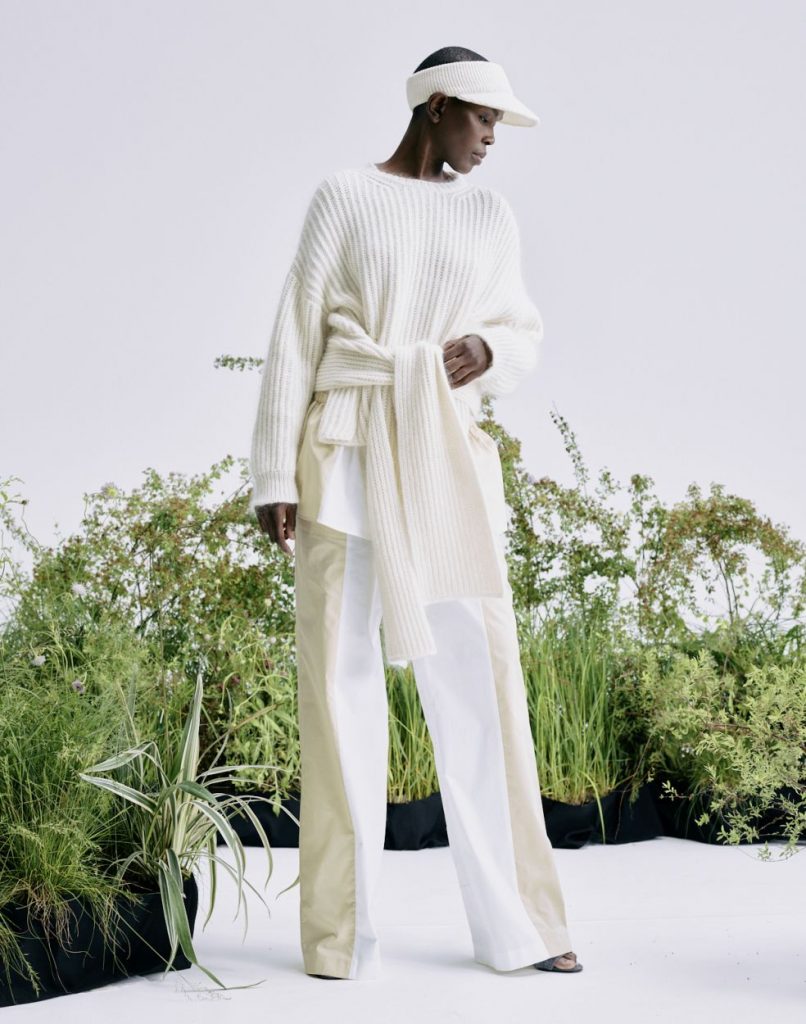 Now living in Milan and working for an Italian brand, what influenced you the most from your time back in New York and at Bottega Veneta?What has still the biggest influence on your work? 
Bottega Veneta was my school in luxury goods. Everyday of work reflects on that foundation. I've remained in Italy for so many years in part because of the close proximity to the manufacturing and because I love living here. I'm a hands on designer. My process has many influences but I'm mostly inspired by people, culture, and social change. I design for the individual to wear the sweater, not the opposite. The process should be harmonious.
Your own knitwear brand "Sansovino6" founded in 2009, makes clear that knitwear is your trademark. What do you find most fascinating about knitwear in general and in its design process? 
I founded Sansovino6 as a lab of creativity working with the knitwear market. My design process is as chaotic as it is organized. With the "Highline" I wanted to respectfully address the existing Fabiana Filippi consumer and also attract a new one. Knitwear starts from a thread, therefore the possibilities are endless based on technology and curiosity. I became intrigued in part I think because as an "american" I've always been inspired by the practicality of american sports-wear's principal idea that comfort comes first.
The collection is called "Highline", a reference to the Highline in New York. What is your connection to it? 
New York is the only play where I've lived that leaves a sense of nostalgia in my thoughts. The NYC Highline in the Meatpacking district is the perfect combination of urban design and ecology. The Highline is also cropped between cement and metal in the center of a metropolis. I find the aesthetics appealing and wanted to reference the beauty and the function within this capsule.
The capsule collection is a clear reference to Fabiana Filippi's philosophy and it is a great commitment to sustainability. How can one manage the balancing act between design and a certain responsibility towards the environment? 
Responsibility in the design and creative space is a huge conversation that would take much longer than I can write here…. It takes each and everyone involved to be on the same page and committed. Nothing at this point is 100% sustainable, but in my creative process the responsibility lies in the materials I use, the way it is made, and the way it is manufactued. Knitwear is among the most sustainable fashion secors in that there is much less material waste, but with that said we still have much more work to do collectively for the future. I am invested.
What was the biggest challenge in the creation process? 
There is never enough time….
What individual input do you bring to the collection and who is the person of inspiration for it? 
I wanted to create a capsule that was convertible and felt honest and cool. The mix of luxury manufacturing and sporty elements is somewhat of a hallmark of my style so this is omnipresent. There is no single person for inspiration… I would hope that everyone can find something that suits them.
Neutral  colors dominate your collection: nude, cream and   mélange,paired with shades of orange, red and purple, with olive green, grey and black accents. How did this contrasting color world connection come about? 
Fabiana Filippi has a clear history working with staple neutrals. I wanted to respect that history and add to that some hints of color to accent the neutral. They served as hits of light, like the beige and black knitted paiettes used for sporty tanks and dresses. Anyone close to me knows I've always reserved a soft place in my heart for grey melange, and monochromatic combos… I find it chic and comforting.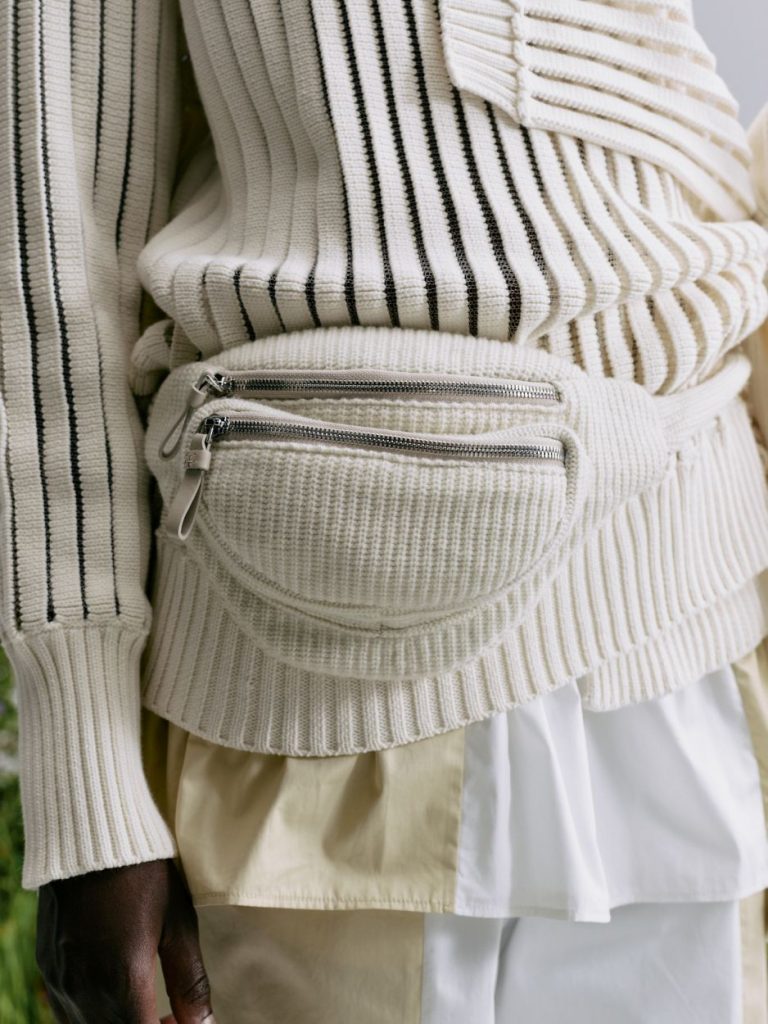 And last but not least, what is your favorite piece of the collection and why? 
I'm a sucker for a knitted accessory so if I must only choose one piece I would say the knitted waist bag in grey melange cashmere.
Interview Elisa Promitzer
Picture Courtesy of Fabiana Filippi