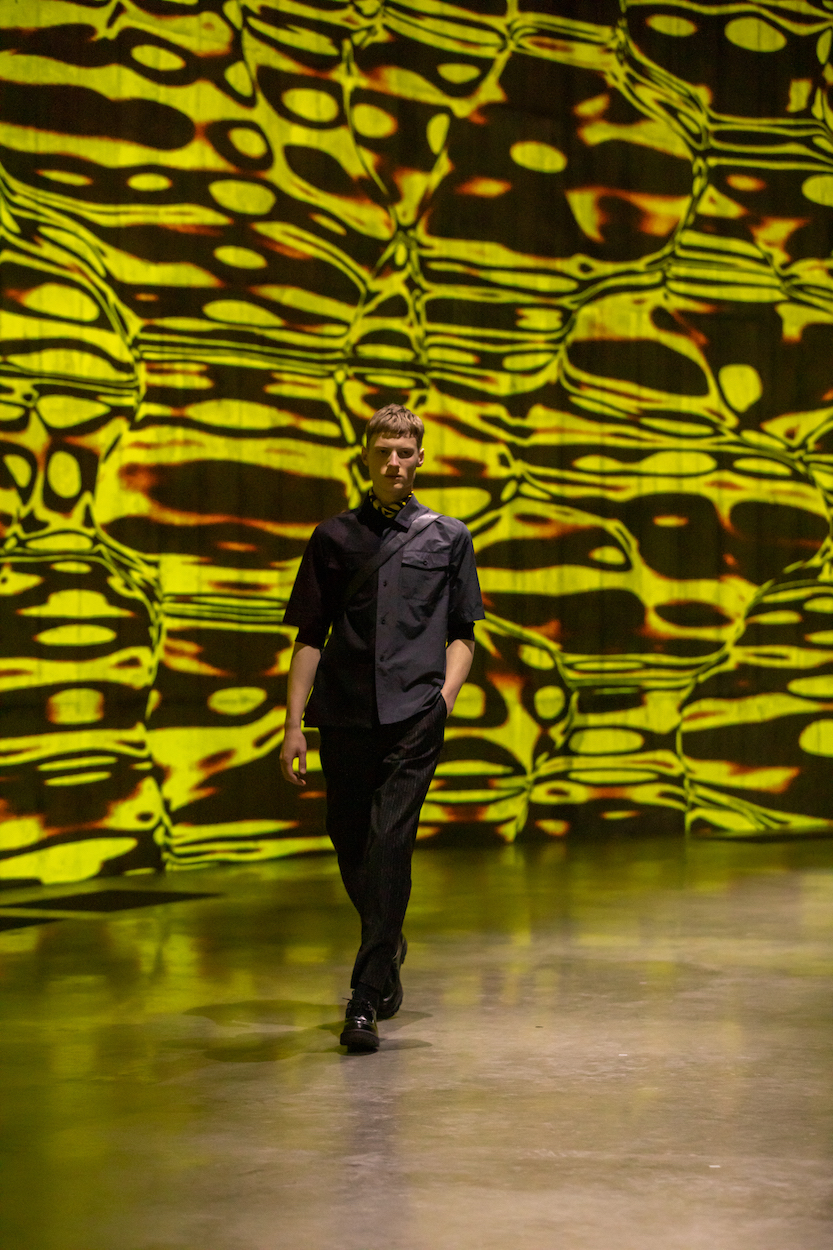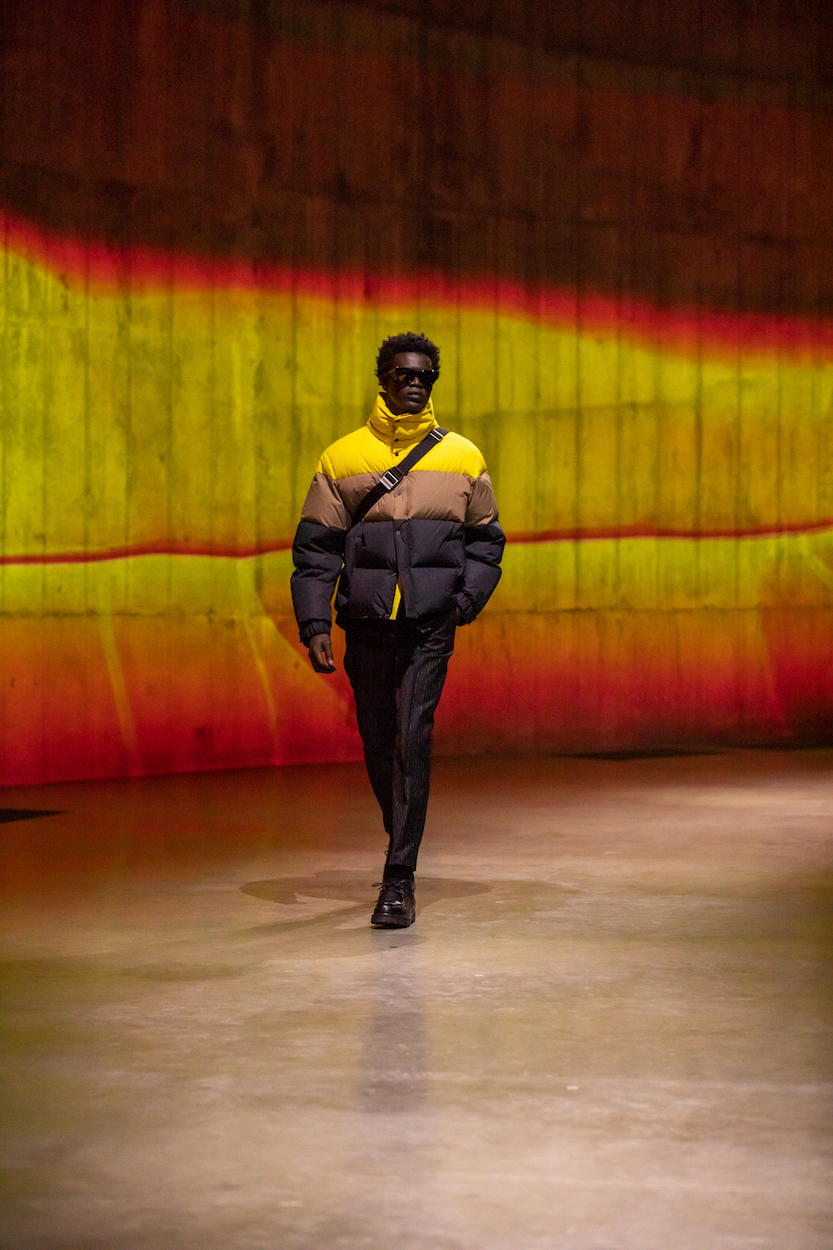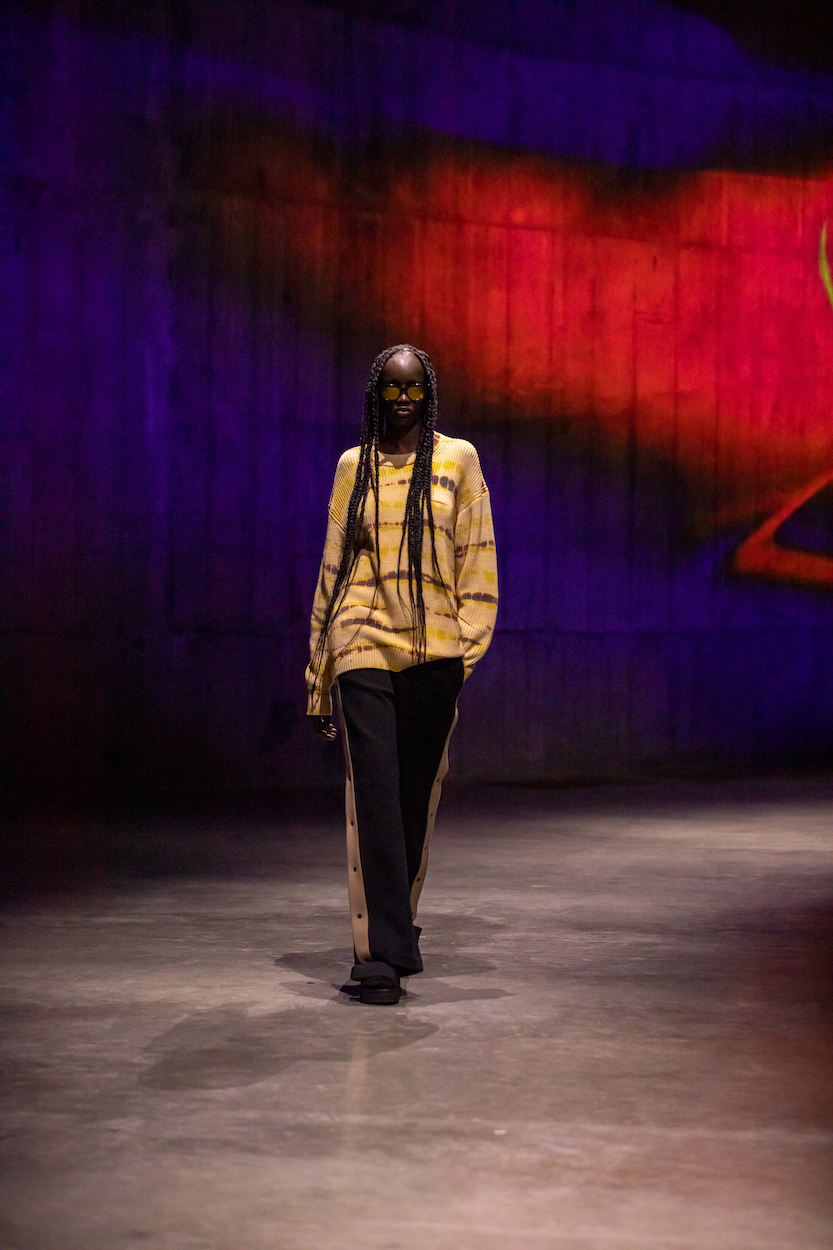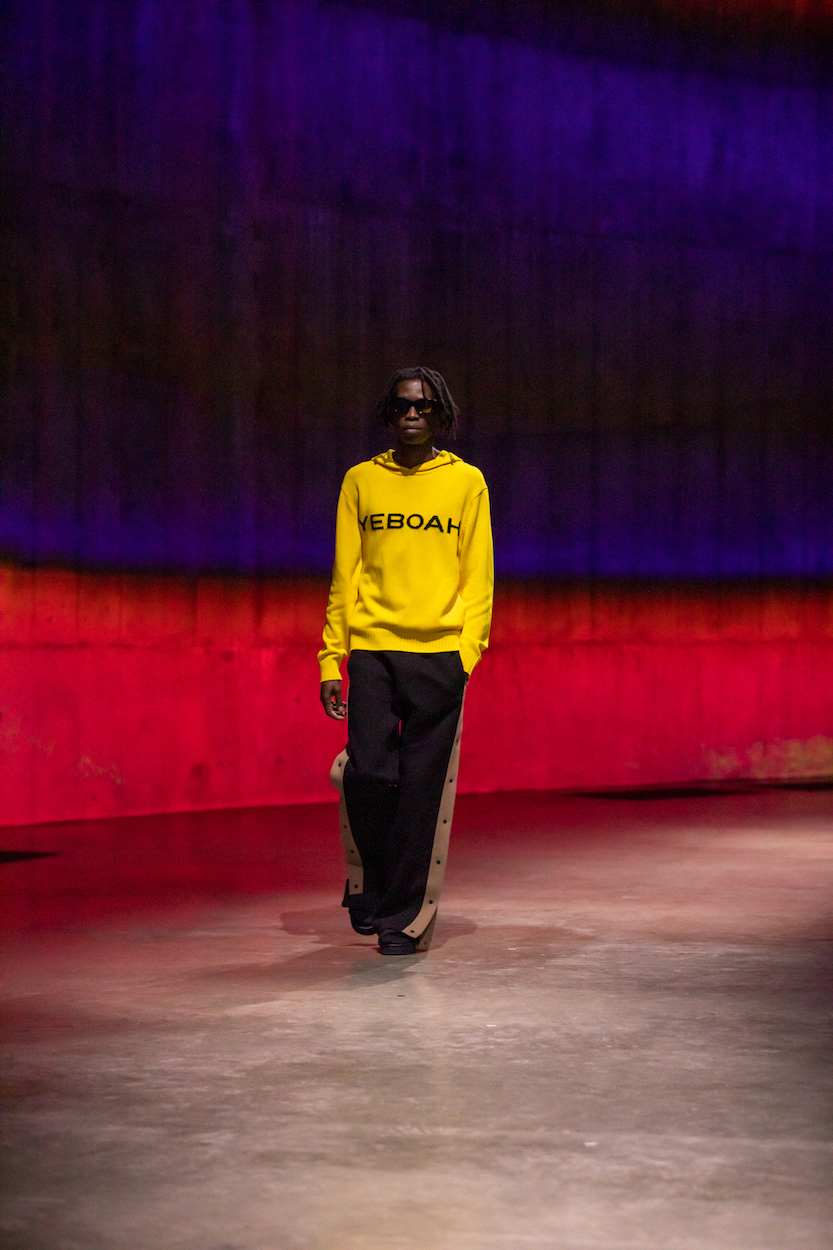 COS X YEBOAH ANNOUNCE LIMITED-EDITION COLLECTION 'METAMORPHOSIS'
How does design become a transmitter of emotions?
Reece Yeboah knows how to weave both together. The up-and-coming designer who presents high-quality streestyle collections under his eponymous brand shows a high demand on himself: Do nothing mindless and without influence on society. Thus, his own feelings and transformations become the fulcrum of his personal design journey.
For his joint collection with COS, the process of metamorphosis that every person goes through several times in their life becomes visible, viewable and tangible, an inspiration for all those who are in one of these phases and may not yet believe to emerge from it even more confident and empowered.
In the breathtaking setting of the "Tate Modern", a famous museum for modern and contemporary art in London, the young designer presented their collection "Metamorphosis".
Numéro Berlin spoke with Reece about the depths of the cooperation and the power of values and transformation.
Reece, how would you describe the core identity of COS?
I came across the brand maybe four years ago. I just went into the shop one day and thought the quality was amazing. I've been a fan ever since then, to be honest. So, for me to have a collaboration with them is mind-blowing. They know that it's essential for your wardrobe to be sustainable and to have pieces to last a very long time. And COS takes sustainability very, very, very seriously. I've been schooled while working with them, and it's been an amazing experience. That's the sort of thing they do well and take pride in as a company. 
You now had the chance as a designer to create your own interpretation of the merge of design, function and quality with your joint collection. How do you think one can fuse these three qualities in general?
One of the most important things is to avoid following trends. I prefer keeping things simple, clean and sustainable,as well as educating the consumer that we've made a collection that you're going to have for a very long time. It's not just a seasonal option; it's something you'll cherish once you get it, not only because it's an exclusive collaboration but because the pieces speak for themselves in terms of quality.
The collection is called 'Metamorphosis', a term that may be seen figuratively as a merging evolution from which something new emerges through a process. What is the pivot of this transformation?
How it all starts off. And I chose the metamorphosis story because of my upbringing, what I've done and how I've evolved into a man. We have a few elements with some caterpillars and some butterfly print cocoons. But the main story helps everything come together, represented by the brightness of the yellow. Through this visualisation, many people will understand where I'm coming from as a designer and how I worked with COS to form something that marries two different styles and represents street luxury with tailoring.
"I prefer keeping things simple, clean and sustainable, as well as educating the consumer that we've made a collection that you're going to have for a very long time."
As you already mentioned, the colour yellow is clearly visible in the collection. Can you explain your own personal meaning of this color in this collection?
I chose yellow because of where my mom sent me in Ghana, which is in the eastern region. In their regional flag, yellow stands a lot in it. It is based on the mountains. Where I got the inspiration for this collaboration to use yellow.
Becoming a designer influences what you're doing and how you're doing all those things. From a purely creative perspective, how do you generally translate a feeling into design?
I would identify the emotion associated with my feelings and then do the opposite of what I think is right: For example, I had a really bad dream. I would dissect what I remember from that dream and try to explore ways to do that. A collection emerges for me. And then I build the collection within ten days. But that's my process when it comes to it, when sketching, when I put my ideas on a piece of paper. I even like to turn negative situations into positive ones and turn a positive situation into a statement, like this collaboration we have now. I look at my experiences in different colors, shapes, textures, movements and feelings.
You want to avoid the mindless influence in your work and instead find a social impact in everything you do. Where do you start to implement this?
The brand name, as it is, has helped me because it is organic. And my last name means helping others. So that's my logo, my tagline, and working with COS has done that for me. Once people see that this is also a collaboration between us, it will inspire many other people with the same background as me. As I move forward, I would like to do something for the community in Ghana. The social impact will develop organically, and the growth will happen on its own. I can't predict that, but it is a goal in my life that I want to achieve, and it is one of my life goals to fulfill it.
Based on that, how would you describe yourself as a person and as a designer?
As a designer I am very serious, perceptive and traditional. Sometimes I have an unorthodox style, which means I can go for classic, simple casual clothes or styles, but sometimes I can go for a very profound way of explaining myself through clothes and silhouettes. I don't have any barriers. I don't like to feel any way when it comes to design. I don't like to speak in areas. I may focus on women one week and then move on to men. So it's very unorthodox and mysterious at times. As a person, I would say that I am very humble. I've struggled a lot in life, and the struggles in life have come with me. I will never try to take advantage of someone just because I know I have a better chance than they do. I am a healthy person. I like to help a lot of people, and I have helped a lot of people. So I will continue to do that. As a person, I am very generous.
With this in mind, what characteristics do you and COS have in common?
We both take quality very seriously. Quality comes first. We're both open, and that's why this collaboration can happen in the first place. So, we think alike in those terms. And we're really aligned in certain aspects, which helps. It brings the best out of both of us. 
And how would you say both of you complement each other?
They're introducing me to new things, such as tailoring and wardrobe essentials. And they make sure that I don't overstep when it comes to producing or knowing that I need to be sustainable. I bring street elements, styles, new ideas, being a bit quirkier and providing something they have not had to the brand before. That's the balance between both. 
Talking about wardrobe essentials, what are your personal essentials?
In the collaboration, we got a nice, oversized white T-Shirt of brilliant quality. Then a tracksuit. I think everyone needs a puffer coat. And every man needs a suit. Even females, they need suits. For me, a key piece is timeless. I need to make sure that I've made a conscious decision and that this piece will sit with me over the years. And that is why I require in my wardrobe-essentials. A lot of people should be thinking in this way.
"And I chose the metamorphosis story because of my upbringing, what I've done and how I've evolved into a man."
What is your favourite collection piece if you would have to name one?
It keeps changing. To me right now, it would be the varsity jacket: The quality of it, the colours, the patches, the way I feel when it's on. Yeah, I like it a lot.
One has the feeling that a change is slowly but surely taking place in the direction of consumption and that people are beginning to buy more consciously. But there is still a long way to go. How can we, as a consumer and you as a designer, try to encourage this rethinking of consumption?
For me as a designer, I have a philosophy for my brand. And even though it may not be for certain people, I need a sustainable way of doing things. And as a consumer, you must buy, understanding that not everything coming out needs to be purchased. Sometimes you might need it, and that's a decision you need to make, but you can't have six or seven jackets that show up this week and then buy them and add them to what you already have.
In general, a kind of understanding sets in among us as consumers to perhaps spend our money where our own morals lie. Nevertheless, the choice is still overwhelming and we are used to the stream of new things that change so quickly. Do you have a trick for yourself to figure out if you really need and want something?
The best thing is to have friends who know you well and understand your wardrobe and style. If they know you well, they ask questions to figure out if you really need it. And they'll encourage you or help you to trade something or get rid of something. Something shouldn't be bought when you have something very similar. It also helps to try these things on and then see how you feel and what your gut feeling is.
The limited-edition collection is available exclusively at COS stores and cos.com from 1st of February 2023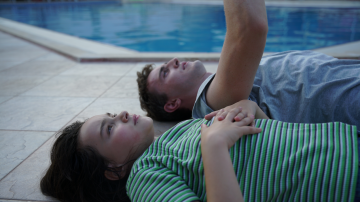 'AFTERSUN': AN ATMOSPHERIC FLASHBACK
'Aftersun' stages a father-daughter relationship in its depth and vulnerability.
Words by Carolin Desiree Becker
CALVIN KLEIN SS23: CONFIDENCE IN COMFORT
Advertisement
Calvin Klein is a brand that has always been known above all for one thing: its iconic…
Photography by Mert Alas & Marcus Piggott