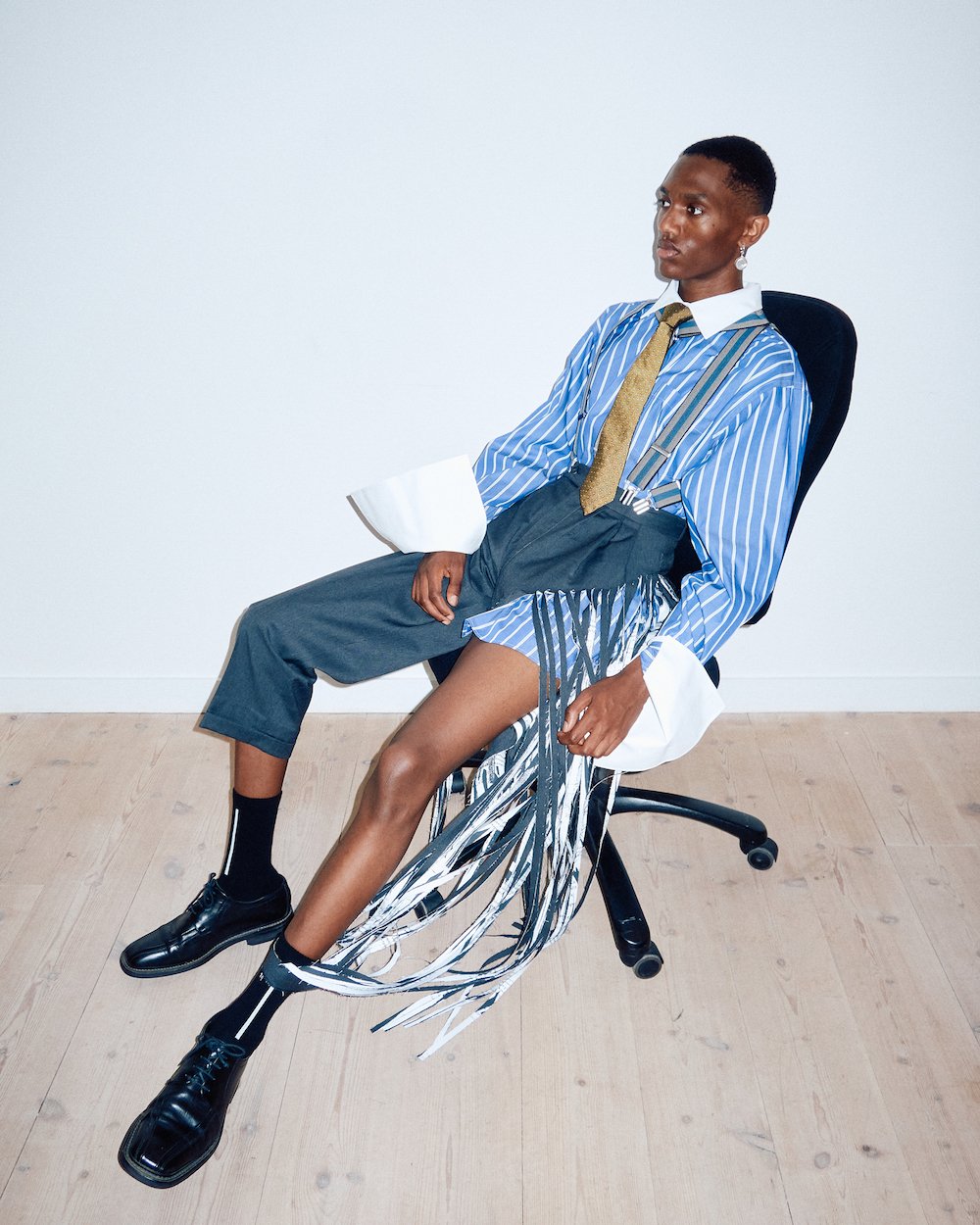 MONEY, POWER, GLORY? LATIMMIER SS24
Go big or go home could be the motto of 35 year-old Finnish designer Ervin Latimer.
Lights, camera, action! Instead of an opening look for his SS24 collection, the creative director himself set foot on the runway. In the guise of his drag alter ego "Anna Conda" he performed a lip-sync to 'Hey Big Spender', which turned out to be the perfect attunement for what was to come afterwards.
"Positions of Power"
… is all about corporate masculinity and menswear in the corporate world; where elegant suits and crisp white shirts usually symbolize status and power, Latimmier tears down this facade, showcasing how fragile it is. He printed invoices on a suit, translated the 2008 market crash into knitwear-motifs, restricted movement by adding tight bandages around blazers and shredded parts of the seemingly perfect looks into pieces.
With Numéro Berlin he spoke about his new collection, sources of inspiration, masculinity and what's next.
One year after your debut at Pitti Uomo you brought your drag alter ego back to the runway. How did it feel to open and close your own show?
It was a lot of fun. (Laughs). As our show was on the first day of Copenhagen Fashion Week, we wanted to do something that kick-started things with a jolt of energy. We wanted to make sure that people remember us throughout the week. Drag isn't a stunt or something that doesn't relate to us or the collection though. It actually felt very natural, because this is how I found my approach to expressing identity with garments.
Your design story is also rooted in the queer legacy of ballroom. How did your time in New York and the city's ballroom scene inspire your work?
So you know my dad is African American, my mom is Finnish and white. I was kind of longing for this connection with my African American roots in popular culture. One thing that I always found super fascinating was ballroom. Once I moved to New York, I could finally feel that energy and get the experience of being in a room full of people with similar identities and experiences – parts of that I really wanted to bring with me.
Masculine silhouettes play an important role in your designs. Nevertheless your brand is not a classic menswear brand, but for everyone. Can you explain your tagline "For the Performance of Masculinities"?
I've always been fascinated with the history of Western menswear, but I also knew that I didn't want to restrict my designs to men only.
"It's more about 'performing' masculinity and what kind of clothing can be used to do so."
What does masculinity mean to you?
For me, it's just a playground I use to discuss norms in society really, because so many of the norms that are inherited in our societies are based on traditional ideas of masculinity and patriarchy. With our work, we want to contribute to changing the way we approach not only gender, but norms in everyday life.
Masculinity is a huge topic in Martin Scorcese's 'Wolf of Wall Street', which is a reference that accompanies your work. What makes this movie so inspirational for you?
I find it really intriguing, how it depicts masculinity. You have these chest pounding, red-faced men – really aiming for this money, power and glory type of life.
"It's just super fascinating because it's the total opposite of how I see the world."
Can you highlight one standout piece from this collection and explain why it is special to you?
One would definitely be the mustard-colored strong shoulder blazer with shorts. It's organza dyed with post-consumer waste coffee grounds and the print is made from our invoices that were shredded and scanned. Originally, it was this idea of making a suit out of my own misery; because hey, we'll make a fucking suit out of it, if we have to. It also relates to the theme of the collection. For so many of these broker guys, it's not about showing what's real, it's about showing ego and status with an expensive watch or luxurious shoes. We wanted to show what's real. Another piece I really like is this black knit that has a red kind of line motif, which is depicting the stock value of the Lehman Brothers from the early 2000s to the 2008 market crash. It's this classic rib, but then above the line, it's mesh showing skin. The idea is, the less value you have, the more skin it's showing. So the less value you have, the more exposed you are.
The SS24 collection is your third and last collection as part of CPHFW NEWTALENT program. What's next?
We're feeling really confident after this season – it's just a matter of what we choose to do next. Do we want to do a show or do we maybe take a break and come back well rested and stronger in summer?
"We're not sure yet, but whatever we do, we'll make sure we're noticed."