Top model and actress Cara Delevingne stars G-Star RAW's new Fall/Winter 2022 collection. As a female icon, she underscores the brand's penchant for showcasing exceptional, unique talent. Known for her rebellious, outspoken character and her ability to show different aspects of her personality, Cara Delevingne adds her individual touch to the collection.
The campaign introduces the new denim collection presenting G-Star's signature designs, which always challenge the norm.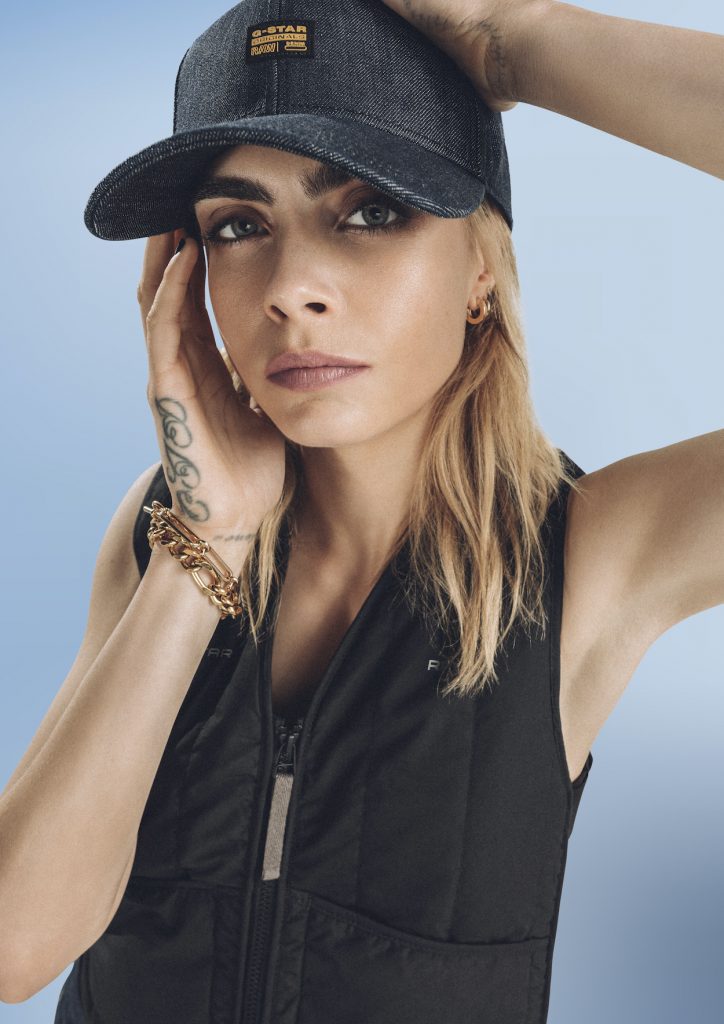 The international jeans label G-Star was originally founded in 1989. With sustainability being part of their DNA, the brand believes in designing in closed loops, which means using only sustainable materials, clean chemistry and ensuring that garments are designed for reuse.
Trademark of the cult brand from the Netherlands is denim. Probably the best known is the G-Star Elwood for men. Inspired by a passing motorcyclist with jeans that had been sculpted by the rain, the Elwood features a 3-dimensional silhouette with recognizable knee patches and workwear pockets. Over time, the youthful denim fashion has been expanded to include outerwear, jackets, t-shirts, sweaters, coats, hats and shoes. RAW denim is one of their favorite fabrics, because it is not additionally washed or treated after dyeing and the aging process brings character to RAW denim, creating a unique piece tailored to each wearer. Prominent red, green and blue tones are present in mainly all collections, while many seams are always additionally emphasized or buttons also serve as characteristic details. G-Star has also become known above all for its provocative, ironic communication.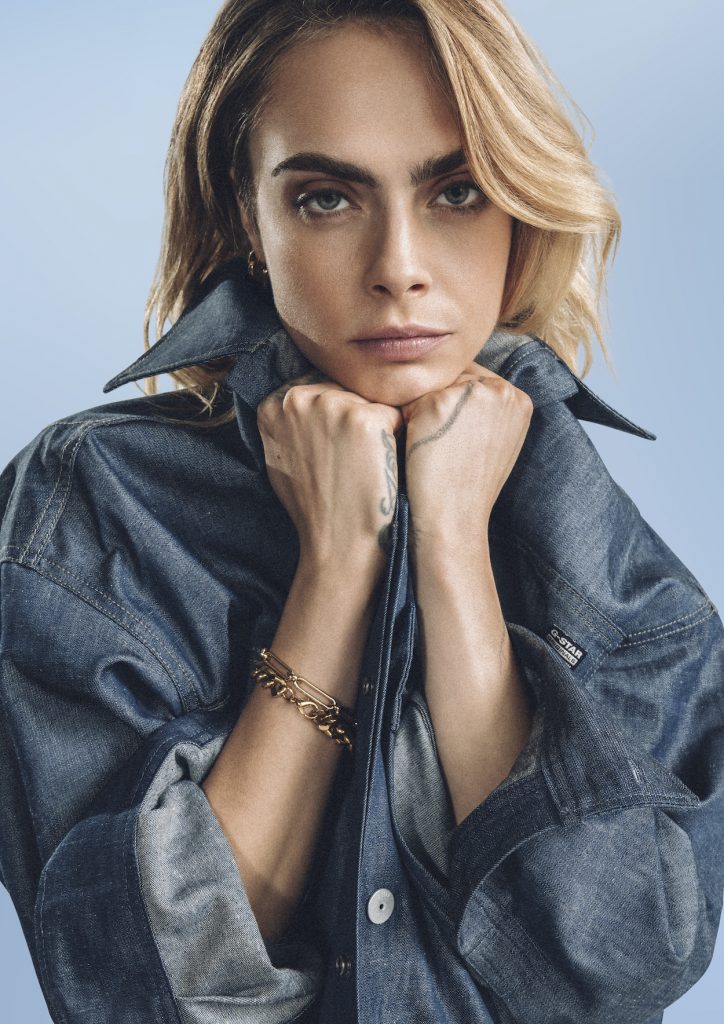 Cara Delevigne is not only a model, but also an actress and an industry icon. Being the youngest daughter of Charles Delevingne and model Pandora Stevens, Cara Delevingne was discovered as a model at the age of 18. A little later she was booked by Christopher Bailey for her first big walk on the catwalk. Shortly after, she got many campaigns and catwalk jobs and also been discovered by Karl Lagerfeld. Although she kind of grew up in the fashion industry, she stays true to herself and is still known for her rebellious and provocative character.
In keeping with G-Star's identity, a fusion of two rebels who love to push boundaries is born. Through the collection, this feeling comes alive through designs.
Cara is wearing two new denim fits for women: The Stray and Type 49. The Stray is a straight fit with an ultra high-rise and is inspired by the iconic 50s girl gangs who rebelled against saving measures. With a youthful, androgynous vibe, it offers a rebellious edge to a classic style. For both men and women, the Type 49 brings a modernity to an old souled design, complete with a high rise and a relaxed straight leg. The FW22 collection pushes the boundaries of G-Star's signature denim design, in a campaign where Hardcore Denim goes beyond reality. The brand is also launching a collection of their timeless denim must-haves this season: Denim Essentials. The capsule collection includes denim classics that will feature every season. From a boyfriend-fit denim vest to the Arc 3D Denim, each one of these staple pieces are available to wear through the years.
The G-Star RAW Hardcore Denim collection is available now in stores and via g-star.com
Picture courtesy of G-Star/Pr